Thank you to each of my students who took the time to complete a student evaluation of teaching this year. I value hearing from each of you, and every year your feedback helps me to become a better teacher. As I explained here, I'm writing reflections on the qualitative and quantitative feedback I received from each of my courses.
Research Methods is the course I have taught more than any other: since 2008 I have taught 1022 students across 14 sections. I am also the course coordinator, which means I help new research methods instructors prepare for their sections including ordering textbooks, I organize the labs including TFs and room bookings, and I facilitate the poster session. And I write the Canadian edition of the text we use (2nd edition forthcoming February 2016). I spend a lot of time thinking about this course!
Over the years I have incorporated many suggestions initiated by students in student evaluations, and have made changes to the course design based on student evaluation feedback. In 2014/2015, I implemented one major change to the course: I converted my three tests and the final exam to a two-stage format. Students write the test first on their own, then break into groups to write it again (see my blog post about this method, with resources). The largest challenge I knew I faced going in was timing, particularly for the tests: Our class periods are just 50 minutes long, and my tests were already notoriously lengthy. It was with this lens that I approached reading my student evaluations for this past year. Do I keep the two-stage tests?
I examined the quantitative data first. As is clear from the graph, there were no major differences relative to previous years. Notably, The fairness of the instructors' assessments of learning item was rated higher than usual, though that difference was small. No indication of a disaster. Yay!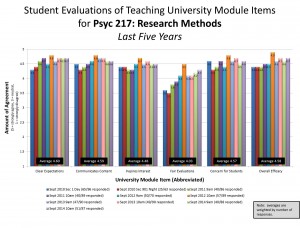 Next, I evaluated the qualitative data. As I sorted into positive and negative columns, two topic themes seemed to be emerging: tests and enthusiasm. As in past years, students appreciated the energy and enthusiasm I bring to the classroom (especially at 9am and especially with this topic). Out of 128 comments, 29 of them (23%) specifically mentioned energy or enthusiasm (with just a couple of those recommending I tone it down a bit).
Coincidentally, the same proportion of comments (29, 23%) mentioned the tests in some way. Six comments endorsed the three (rather than two) test format, indicating it helped them keep on top of studying, although three comments mentioned that tests 2 and 3 were too close together, and another three indicated they would have preferred two tests. Seven comments mentioned enjoying the two-stage format were positive, indicating that it provides opportunities to work together, make friends, and receive immediate feedback. The two negative comments that specifically mentioned the two-stage format did not disagree with it per se, but felt that this format exacerbated a different problem: feeling rushed. Seven comments specifically mentioned feeling rushed during exams. Two others indicated that the fix implemented for test #2 worked well to address the timing issue. Still, it seems that timing during tests was the clearest challenge in my course. Despite my best efforts to shrink the tests, there is a small group of students reporting they remain too long for the required tasks. I'll consider strategies for preparing students for this pace.
Overall, the two-stage tests seemed to work well for most students, and grades were still within the acceptable range for our department. I enjoyed giving exams much more than I used to, and I was able to relax and hear the conversations students were having as they debated correct answers. Anecdotally, I was able to witness deeper learning and (mostly) positive group dynamics during the second stage (luckily I have other peoples' data to offer as evidence that it works to promote learning!). Two-stage exams: you're staying!