For the past six years, I have asked Psychology's Teaching Assistants to complete the sentence, "An excellent TA…" both before and after TA Development Day. While completing the program evaluation report for our 2013/2014 TA/TF programming, I pasted the data from almost 200 TAs into Wordle to produce these word clouds. The larger the word, the more frequently it was mentioned. I'm delighted to see student(s) are at the heart of what TAs consider to be excellence!*
Pretests
The words students/student, course, material, learning, and available jump out to me.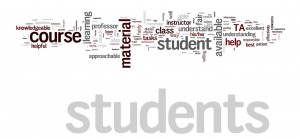 Post-tests
The words students, professional, organized, knowledgeable, approachable, learning, course, enthusiastic, and responsible jump out to me. Professional is a quality we try to emphasize very much on TA Day, and it seems like TAs are picking up on that theme.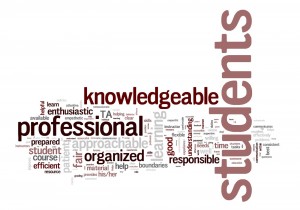 *I'm not trained to interpret qualitative data without converting it to actual numbers. If you are, and see more meaningful themes in here, please feel free to comment below or email me. I'd love to hear your thoughts!