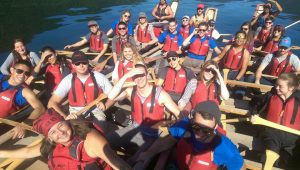 In late September, I joined 26 other 1Ls on the Annual Allard Aboriginal Awareness Canoe Trip to Granite Falls. I must say that it was one of the most rewarding experiences of my first year of law school.
The stories, traditional practices and experiences shared by our Tsleil Waututh guides and hosts were invaluable in understanding the Aboriginal context of the Canadian legal system. Throughout the year Aboriginal law was woven into criminal, property, transnational and most prominently constitutional law lectures. I constantly found myself recollecting the stories of raven and "the people of the inlet", which were shared by our guide Wes, and reflecting upon them to better understand juxtapose perspectives of Aboriginal and Non-Aboriginal understandings of legal systems and the complexities this creates.
Additionally, I found the canoe trip was a great opportunity to meet my law school colleagues. Being early in the school year, I found myself still meeting people from other small groups. The journey that we shared was very effective in bringing the 4 small groups together and resulted in friendships that I am sure will last a lifetime.
I would highly recommend going on this amazing trip to any 1L with even the slightest interest.
Written by Darrin Mah