Allard's Annual Tricycle Race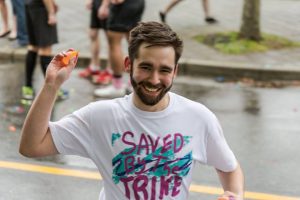 Without a doubt, the Farris Trike Race is one of the most highly anticipated events of the year- and for a good reason. When else do you get the chance to throw water balloons at your professors, lawyers and classmates?
This long-standing UBC Law tradition takes place at the end of every school year. Each year, a different theme is chosen (this past year was "Saved By The Trike"- aka 90s). Teams dress-up in ridiculous costumes to battle against their classmates and faculty members for the coveted trophy. Taking place right outside of Allard Hall on Crescent Road, teams of 4 race against another team in a bracket-style tournament. The race begins with the first team member chugging a non-alcoholic beer, running to their trike, and (attempting) to pedal/side-step down the course, where they pass the trike off to their next teammate. While all of this is happening, students and faculty from the sidelines squirt water guns, and throw water balloons and buckets of water at the racers.
After the race, a Friday social follows, filled with a BBQ and beverages. This was my favourite event of the entire year, and I am already looking forward to this years! It is definitely a much needed break from the books and a chance to have fun before final exams! Thanks to Farris and the ALSS for keeping this tradition alive!
**If any of you have Professor Edinger, you MUST get her to tell you her stories from the race back in the day!*
Written by Jenny Musyj