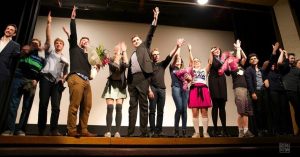 Law Revue (not "Review")
Hey, incoming1Ls!
Ever wanted to take part in a semi-professional theatre production with a bunch of intelligent (and, often, surprisingly talented) law students who don't approach life with anywhere near the requisite degree of seriousness? And, to make fun of your professors, the legal profession, and peers at the same time, all while building a made-for-television-movie-about-a-high-school-sports-team-that-triumphed-over-adversity level of camaraderie with your classmates?
If so, you may wish to transcend the normal anxieties most 1Ls have about committing to extracurriculars (especially since this one requires exactly as much commitment as you'd prefer to undertake; think of it as the opposite of an Amish co-ed social, or a Tinder date), and carefully consider joining Allard Hall's very own LAW REVUE this year.
What is "Law Revue"? Well, first, what it ain't- it's not the "Law Review", which is a club where diligent, detail-oriented students edit and proofread academic papers submitted by faculty before their publication. Law Revue, by contrast, is a student-comprised group (and, usually, as performers, a few of the more gregarious faculty members) which plans and executes an annual theatrical production, hosted in early March on campus, that is best described as a variety show, bounded only by the imagination of its creators. The format is typically a mix of comedy skits, live dance numbers, pre-recorded digital shorts, and lip syncing performances, with the addition of a live house band last year (side note: should you have any musical chops, and a desire to exercise them amongst friends, consider also signing up for the Allard Music Performance Society, if only for their acronym).
Still, I hear you- what's Law Revue, really? Will I have fun, be popular, and finally get that individual who rejected me in high school to call me while intoxicated and tell me they made a terrible mistake?
My learned friend, and co-director from last year, the inestimable Ana Mihajlovíc, describes it like this:
Law Revue is your high school acting class, meets SNL (when it was still good), meets Lip Sync Battles, meets MadTV, steeped in the cynicism and dark humour of a profession so intense, the medical students feel bad for us.
As part of LAW REVUE, you can occupy any role your little heart desires. Do you love the spotlight? How'd you like impersonating one of your professors onstage? More comfortable behind the scenes? Between libations manager, ticket sale manager, social media manager, and prop master, you can manage and master as many things as you please without ever humiliating yourself onstage for all the school to see. Have you recently seen some controversial ish, and want to write about it? Add some characters and make a skit out of it! Can you hold a camera and/or act as an extra in a scene? We want you. Literally, we have as many positions as people wish to occupy. The only goal is to produce a show good enough to earn an approving nod from our
faculty matriarch, Professor Edinger.
Finally, some personal testimony from yours truly- I avoided signing up for Law Revue for my first two seasons at Allard, and only joined as a director/actor/script writer last year, as a 3L. This was a massive mistake, and one I'm glad I rectified in time. Law school was full of wonderful experiences, but Law Revue was like being mobbed in a sunlit field by a contingent of golden retriever puppies, while a cherished authority figure from your childhood tells you that you've made good life decisions.
Sign up on Club Days (the first real week of school) to learn more!
Best,
Mike Larsen (4L) [P.S- if you're worried that you lack the relevant talents to participate, don't be. I wrote scripts, acted in, and directed the thing, with arguably below- baseline skills in each of those categories. And, if you want to minimize extracurricular obligations prior to April exams, 1Ls often front load their participation (script writing, drafting new lyrics to classic songs, early video submissions), so they can just be part of the audience when the show rolls around in March]