Are you loving Memorial Road's new facelift? Because I know I am! Check it out: all the way from East Mall to the Music building is going to have the same tasteful cobbles as Main Mall, plus they're putting in shrubs and flowers in between the two pathways, as well as the same breath-taking cherry blossom trees you can find on Lower Mall by Place Vanier. Sweet!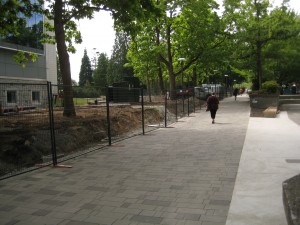 Only half is done at the moment, but it's looking good already.
But wait, there's more! The section from Main Mall to the Music Building is already finished! Thank goodness – walking around the Fred Lasserre building every day was a major inconvenience, and now I don't have to walk through a parking lot anymore!
Looking forward to spring when those cherry blossoms are in bloom!