Jan
15
The Point Grill, located at Marine Drive residence, is UBC Food's newest restaurant, and is set to open very soon. The always adorable Andrew Parr was nice enough to give myself and Rabi Sun (of Portraits of UBC and Just Shoot Me fame) a sneak peek at what was going in there.

Although the official opening, January 25, is very quickly approaching, there are still a lot of finishing touches being applied, as the pictures show. Ultimately The Point will have space for just over 100 seats inside, with a 50-seat outdoor patio. It is also set up with a small grab-and-go counter near the front where basic grocery staples (milk etc.) will also be available to service the Marine Drive crowd.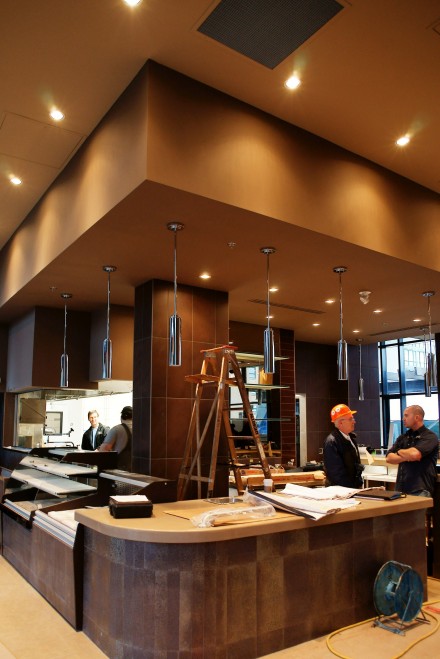 What should be exciting to students about this is that it's filling a need that has gone unaddressed for way too long: it'll be open late. Cafeterias in residence don't stay open later than 7:30; after that if you're hungry and in rez, there aren't a lot of options. The Point will be open until at least 11 pm six nights a week (10 on Sundays), which at least creates another viable option for students on campus looking for a bite to eat later in the evening.
UBC Food is very aware that this demand is out there which also part of the reason the UBCard program was extended to non-UBC food outlets this year. Currently meal plan dollars can be used to pay for food at Mahony's, Pita Pit in the Village, and Domino's on Dunbar. According to Andrew Parr, since this program started, Domino's has been getting a whole whack of business from students using their UBCard to get a late night snack.
The other draw for students is that The Point is licenced and will have full bar service. During summer 2009, there was nowhere students could go to buy beer using their meal plan. With the opening of The Point, there will be three (White Spot and Mahony's are the others). If that is not progress, I don't know what is.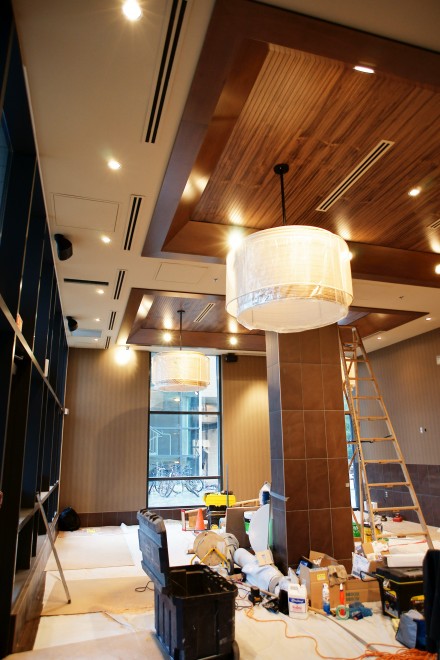 This is not to say that The Point is only aimed at students. It's also meant to be an option for UNA residents and students/staff from adjacent areas. The feel they were going for inside was funky and relaxed. Andrew Parr previously compared the idea to Cactus Club or Milestones which he no longer does, because the idea got muddled into people thinking an actual Cactus Club or Milestones would be installed on campus. But if you've ever been to either of these restaurants you know what to expect in terms of atmosphere. It will also be a place where you can go to catch the Canucks game with a bunch of friends.
The menu is similar to what you'd expect at Milestones as well, with sandwiches, burgers, pizzas, pastas and other entrees. One thing they will also have is brunch on Sundays. It's meant to be a bit of a nicer place, and as a result the food does cost a bit more than in residence. While food prices charged by UBC Food outlets are a very common complaint from students, myself included, it's not necessarily something to get up in arms about. (And if you do want to get up in arms about it, I'm pretty sure UBC Food would be quite happy to have an honest discussion of the issue with you.)
While the opening of The Point will be rightly overshadowed by the bigger, more fundamental projects currently happening in UBC Student Housing and Hospitality Services (530 new beds at Totem! $4.3M going into childcare!) it's still worth checking out.
Comments