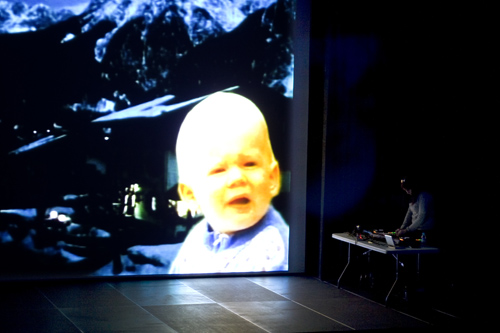 My first day here in Seville for the ZEMOS98 Festival on the theme of Expanded Education was capped off by an unexpected treat, the chance to see one of my long-time heroes, the multimedia artist Vicki Bennett, AKA People Like Us.
In addition to the voluminous media on her site, I highly recommend you check out the archives of her show Do or DIY on WFMU. I've not only admired her work for ages, I've reused it for a lot of my own stuff… For instance, you can hear it in the background throughout my now-outdated online presentation WikiRadio.
So it was a treat to see what apparently will be the final performance of her present performance approach, mining the aesthetic you can see in her archived videos (ably blogged by Jim Groom). I worked up my nerve to say hello, and am pleased to report she was very cool, down-to-earth, and fun to talk with… I think the fact I was wearing my WFMU hoodie helped break the ice — pledging has its privileges.
Before moving on, this being a putatively education-oriented weblog, I'd be remiss if I didn't point out Vicki's work with Ergo Phizmiz on the epic and extraordinarily rich podcast series Codpaste, which opens up the process and thinking that goes into this form of work. The site even includes a complementary .pdf teaching pack (30MB).
I'd been meaning to blog this excerpt from the Comedy episode of Codpaste for some time, in which Ergo and Vicki break down a sound clip from Spike Milligan's Goon Show:
Audio clip: Adobe Flash Player (version 9 or above) is required to play this audio clip. Download the latest version here. You also need to have JavaScript enabled in your browser.
As an aside, what is it about bizarre and brilliant use of soundscape for comic effect, and dudes named Spike?
Audio clip: Adobe Flash Player (version 9 or above) is required to play this audio clip. Download the latest version here. You also need to have JavaScript enabled in your browser.