This is one of the last courses I will be taking in the program and as the journey draws to a close, this course has opened up new perspectives on text and technology. Throughout the term, I have been travelling (more than I expected) and as I juggled my courses with the travels, I began to pay more attention to how text is used in different contexts and cultures. Ong, Bolter and the module readings were great for passing time on my plane rides – I learned quite a lot!
I enjoyed working on the research assignment where I was able to explore the movement from icon to symbol. It gave me a more in-depth look at the significance of visual images, which Bolter discusses along with hypertext. Often, I am more used to working with text in a constrained space but after this assignment, I began thinking more about how text and technologies work in wider, more open spaces. By the final project, I found myself exploring a more open space where I could be creative – a place that is familiar to me yet a place that has much exploration left to it – the Internet.
Some of the projects and topics that were particularly related to this new insight include:
E-Type: The Visual Language of Typography
A Case for Teaching Visual Literacy – Bev Knutson-Shaw
Language as Cultural Identity: Russification of the Central Asian Languages – Svetlana Gibson
Public Literacy: Broadsides, Posters and the Lithographic Process – Noah Burdett
The Influence of Television and Radio on Education – David Berljawsky
Remediation of the Chinese Language – Carmen Chan
Braille – Ashley Jones
Despite the challenges of following the week-to-week discussions from Vista to Wiki to Blog and to the web in general, I was on track most of the time. I will admit I got confused a couple of times and I was more of a passive participant than an active one. Nevertheless, the course was interesting and insightful and it was great learning from many of my peers. Thank you everyone.
wwquotetattoo, originally uploaded by kawaface.
Like technology, the word text is difficult define as its meaning is altered depending upon context and form of communication. I found the definition of text provided by Florida State University, a good starting point to understanding the relationship between of text and technologies.
"Texts are material artifacts that take many different forms: cave paintings, tattoos, stone tablets, clay tablets, papyrus scrolls, manuscript books, musical scores, maps, printed books, engravings, newspapers, photographs, films, DVDs, computers. Every kind of text is produced by a special technology, but all those technologies share a simple purpose: they were designed to supplement the fragile human mind by providing a more durable artificial memory system. Those technologically preserved and transmitted memories are the foundation of all human culture"
(Emmerson et al., 2009, para. 1).
Prior to finding this definition I had never given much thought to tattoos as text. Emmerson et al. (2009) refer to technologies that produce text as "durable artificial memory system[s]". Many people get tattoos as a permanent reminder of a special memory or person or a meaningful image, saying or word. Though I know many cultures use tattooing in traditional rituals, I had not considered the deeper implication of human skin as a vehicle for preserving and communicating information and memories. I choose the accompanying photo as it depicts tattoos of a person's family names as well as a Walt Whitman quote – meaningful to the person whose skin it is preserved on.
References
Emmerson, R., Gontarski, S.E., Taylor, G., Walters, L., & Wiegand, W.A. (2009). Pathways to excellence: History of text technologies (HOTT) from cave paintings to personal computers. Retrieved September 13, 2009, from http://pathways.fsu.edu/faculty/hott/
seoul subway map, originally uploaded by oceandesetoiles.
Technology is an abstract concept that is multi-faceted and is therefore difficult to describe. Lorenzo Simpson (1995) defines technology as a "constellation of knowledge, processes, skills and products whose aim is to control and transform" (p. 16). To expand on this, Franklin (1999) believes that "technology is a system that goes beyond individual material components – it "involves organization, procedures, symbols, new words, equations, and most of all, a mindset" (p. 3). According to Murphie and Potts (2003) technology also involves cultural values, ideologies, ethical concerns and is shaped by political and economic determinants (p. 4).
In thinking of technology as a system I chose an image of the Seoul subway map. The subway is a system that works to control the movement of people across the city. The map looks complex however it is based on an organized system that relies on procedures, processes, knowledge and symbols. Culturally, the subway system is woven into the everyday lives of many individuals. Ethically, public transport allows us to be more environmentally friendly. Economically, public transport is an affordable way to travel. Ultimately, the subway map illustrates how many small and simple systems (routes) can work together to form a more complex whole.

References
Franklin, U. M. (1999). The real world of technology. Toronto: House of Anansi Press, Inc.
Murphie, A., & Potts, J. (2003). Culture and technology. New York: Palgrave Macmillan.
Simpson, L. (1995). Technology and the conversations of modernity. New York: Routledge.
Hi everyone,
After reading through the WordPress entries today, I found that most of the passages I wanted to use had already been quoted. As a result, to find a short passage that gives meaning to the word text I decided to try my luck using the "Great Library 2.0", i.e. Google Books, using the search terms "defining text". I expected to find a deep, philosophical quote that would WOW you all. Well, I was indeed, surprised by the results. Of the top twenty hits, thirteen were in some way related to computer programming or desktop publishing software. I then tried a more refined search by looking for the exact phrase "defining text" (I did not use quotations the first time). This actually increased the number of computer related books to sixteen. "Define text" resulted in sixteen as IT results as well. Many searches later, I tried searching for "the origins of text". Finally I started seeing some relevant results. However, there were still results for Unix and a text-mining computer application.
While the search results alone do not provide a passage that gives meaning to the word text, I think that the results shed light on the changing definition of the word text in the information age. The word text has become synonymous with the inventions of the digital age: text as a programming language, text as the basis for word processing, text as the foundation of the World Wide Web, etc. This was also stressed by O'Donnell and Engell when discussing the impacts that technology has had on education and on today's youth, especially in regards to new language developing in text and e-mail. Technology not only redefines and revolutionizes text, it also reshapes the way interact with text and changes and reinvents the media through which we use it to communicate.
John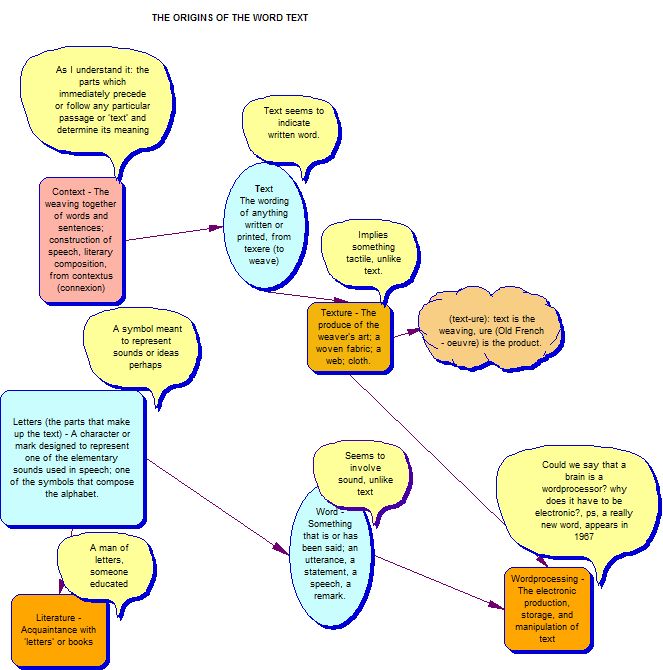 As I looked up the word "text", I started to see the link from one term to another.  It seemed natural to display my findings in this fashion.  The yellow bubbles are my own thought processes.  Once this organizer was complete, I felt the title could be "from text to technology".
Weblog posting on TEXT
Given the debate over the academic validity of using sites that are created by a 'community of experts', I decided to go to the source that most of us equate with this movement, namely Wikipedia. There it was confirmed that 'text' has multiple meanings:
Plain text refers to computer code
A text is a coherent set of symbols
A textbook is an instructional manual
And a text can refer to a particular Biblical passage
TEXT is the name of a hardcore band from Sweden
To me text simple means a way to getting a message across and that is why I chose the Rosetta Stone as a pictorial representation of text. Without text we would rely on other means of communication (oral, gesturing, smoke signals etc.). Most if not all of these would be far less efficient than using text in one form or the other. I mean how else would I be able to describe to what text means to me without actually using text?