"…a newer medium takes place of an older one, borrowing and reorganizing the characteristics of writing in the older medium and reforming its cultural space." (Bolter, 2001, p. 23)
Bolter's (2005) definition of remediation struck me a bit like a Eureka! moment as I sat at lunch in the school staffroom, overhearing a rather fervent conversation between a couple of teachers, regarding how computers are destroying our children. They noted how their students cannot form their letters properly, and can barely print, not to mention write in cursive that is somewhat legible. The discussion became increasingly heated as one described how children could not read as well because of the advent of graphic novels, and her colleague gave an anecdote about her students' lack of ability to edit. When the bell rang to signal the end of lunch, out came the conclusion—students now are less intelligent because they are reading and writing less, and in so doing are communicating less effectively.
In essence, my colleagues were discussing what we are losing in terms of print—forming of letters, handwriting— the physicality of writing. However, I wonder how much of an impact that makes on the world today, and 20 years from now when the aforementioned children become immersed in, and begin to affect society. Judging from the current trend, in 20 years time, it is possible that most people will have access to some sort of keypad that makes the act of holding a pen obsolete. Yes, it is sad, because calligraphy is an art form in itself, yet it strikes me that having these tools allow us the time and brain power to do other things. Take for example graphic novels. While some graphic novels are heavily image-based, there are many that have a more balanced text-image ratio. In reading the latter, students are still reading text, and the images help them understand the story. By making comprehension easier, students have the time and can focus brain processes to create deeper understanding such as making connections with personal experiences, other texts or other forms of multimedia.
As for the communications bit, Web 2.0 is anything but antisocial. Everything from blogs, forums, Twitter, to YouTube all have social aspects to them. People are allowed to rate, tag, bookmark and leave comments. Everything including software, data feeds, music and videos can be remixed or mashed-up with other media. In academia, writing articles was previously a more isolated activity, but with the advent of forums like arxiv.org, scholarly articles could be posted, improved much more efficiently and effectively compared to the formal process that occurs when an article is sent in to a journal. More importantly, scholarly knowledge is disseminated with greater ease and accuracy.
Corporations and educational institutions are beginning to see a large influx of, and reception for Interactive White Boards (IWB). Its large monitor, computer and internet-linked, touch-screen abilities make it the epitome of presentation tools. Content can be presented every which way—written text, word processed text, websites, music, video, all (literally) at the user's fingertips. The IWB's capabilities allow for a new form of writing to occur—previously, writing was either with a writing instrument held in one's hand, or via typing on a keyboard. IWBs afford both processes to occur simultaneously, alternately, and interchangeably. If one so chooses, the individual can type and write at the same time! IWBs are particularly relevant to remediation of education and pedagogy itself, because the tool demands a certain level of engagement and interaction. A lesson on the difference between common and proper nouns that previously involved the teacher reading sentences and writing them on the board, then asking students to identify them—could now potentially involve the students finding a text of interest, having it on the IWB, then students identifying the two types of nouns by directly marking up the text with the pen or highlighter tools.
Effectively, the digital world is remediating our previous notion of text in the sense of books and print. Writing—its organization, format, and role in culture is being completely refashioned.
References
Bolter, J. D. (2001). Writing Space: Computers, Hypertext, and the Remediation of Print (2 ed.). Mahwah, NJ: Lawrence Erlbaum.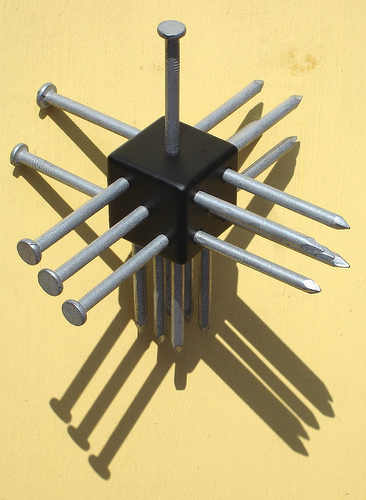 "Technology" is almost as broad of a term as "text," however; in the context of ETEC540, it's a little easier to nail down.  My new understanding of these two concepts is that they clearly have something fundamental in common.  They are clearly both SYSTEMS.  Examining them together has helped me see this significant overlap.  Could we have "text" without "technology?"  No, because text is a technology of communication.  Could we have "technology" without "text?"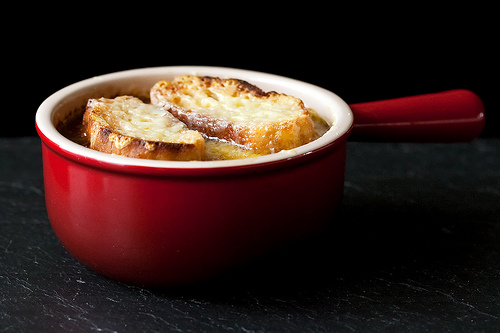 If you boil down all the definitions of "text" on medium heat and stirring often, what you get is essentially "language" soup.   Like an onion, both concepts can be deeply layered and infinitely complex, but both have the same general purpose.  Okay, so what is language then?  Well, it's a system of communication.  And what's the general purpose of an onion??  Well, to give us bad breath and make us cry.
news obsession word flow experiment #1, originally uploaded by Samuel Huron.
Like technology, text is a system. Instead of human-made tools, text involves the structure and order of symbols that reflect oral language (i.e. sentences, phrases, etc.)
Hermia

wwquotetattoo, originally uploaded by kawaface.
Like technology, the word text is difficult define as its meaning is altered depending upon context and form of communication. I found the definition of text provided by Florida State University, a good starting point to understanding the relationship between of text and technologies.
"Texts are material artifacts that take many different forms: cave paintings, tattoos, stone tablets, clay tablets, papyrus scrolls, manuscript books, musical scores, maps, printed books, engravings, newspapers, photographs, films, DVDs, computers. Every kind of text is produced by a special technology, but all those technologies share a simple purpose: they were designed to supplement the fragile human mind by providing a more durable artificial memory system. Those technologically preserved and transmitted memories are the foundation of all human culture"
(Emmerson et al., 2009, para. 1).
Prior to finding this definition I had never given much thought to tattoos as text. Emmerson et al. (2009) refer to technologies that produce text as "durable artificial memory system[s]". Many people get tattoos as a permanent reminder of a special memory or person or a meaningful image, saying or word. Though I know many cultures use tattooing in traditional rituals, I had not considered the deeper implication of human skin as a vehicle for preserving and communicating information and memories. I choose the accompanying photo as it depicts tattoos of a person's family names as well as a Walt Whitman quote – meaningful to the person whose skin it is preserved on.
References
Emmerson, R., Gontarski, S.E., Taylor, G., Walters, L., & Wiegand, W.A. (2009). Pathways to excellence: History of text technologies (HOTT) from cave paintings to personal computers. Retrieved September 13, 2009, from http://pathways.fsu.edu/faculty/hott/
seoul subway map, originally uploaded by oceandesetoiles.
Technology is an abstract concept that is multi-faceted and is therefore difficult to describe. Lorenzo Simpson (1995) defines technology as a "constellation of knowledge, processes, skills and products whose aim is to control and transform" (p. 16). To expand on this, Franklin (1999) believes that "technology is a system that goes beyond individual material components – it "involves organization, procedures, symbols, new words, equations, and most of all, a mindset" (p. 3). According to Murphie and Potts (2003) technology also involves cultural values, ideologies, ethical concerns and is shaped by political and economic determinants (p. 4).
In thinking of technology as a system I chose an image of the Seoul subway map. The subway is a system that works to control the movement of people across the city. The map looks complex however it is based on an organized system that relies on procedures, processes, knowledge and symbols. Culturally, the subway system is woven into the everyday lives of many individuals. Ethically, public transport allows us to be more environmentally friendly. Economically, public transport is an affordable way to travel. Ultimately, the subway map illustrates how many small and simple systems (routes) can work together to form a more complex whole.

References
Franklin, U. M. (1999). The real world of technology. Toronto: House of Anansi Press, Inc.
Murphie, A., & Potts, J. (2003). Culture and technology. New York: Palgrave Macmillan.
Simpson, L. (1995). Technology and the conversations of modernity. New York: Routledge.
Hi everyone,
After reading through the WordPress entries today, I found that most of the passages I wanted to use had already been quoted. As a result, to find a short passage that gives meaning to the word text I decided to try my luck using the "Great Library 2.0", i.e. Google Books, using the search terms "defining text". I expected to find a deep, philosophical quote that would WOW you all. Well, I was indeed, surprised by the results. Of the top twenty hits, thirteen were in some way related to computer programming or desktop publishing software. I then tried a more refined search by looking for the exact phrase "defining text" (I did not use quotations the first time). This actually increased the number of computer related books to sixteen. "Define text" resulted in sixteen as IT results as well. Many searches later, I tried searching for "the origins of text". Finally I started seeing some relevant results. However, there were still results for Unix and a text-mining computer application.
While the search results alone do not provide a passage that gives meaning to the word text, I think that the results shed light on the changing definition of the word text in the information age. The word text has become synonymous with the inventions of the digital age: text as a programming language, text as the basis for word processing, text as the foundation of the World Wide Web, etc. This was also stressed by O'Donnell and Engell when discussing the impacts that technology has had on education and on today's youth, especially in regards to new language developing in text and e-mail. Technology not only redefines and revolutionizes text, it also reshapes the way interact with text and changes and reinvents the media through which we use it to communicate.
John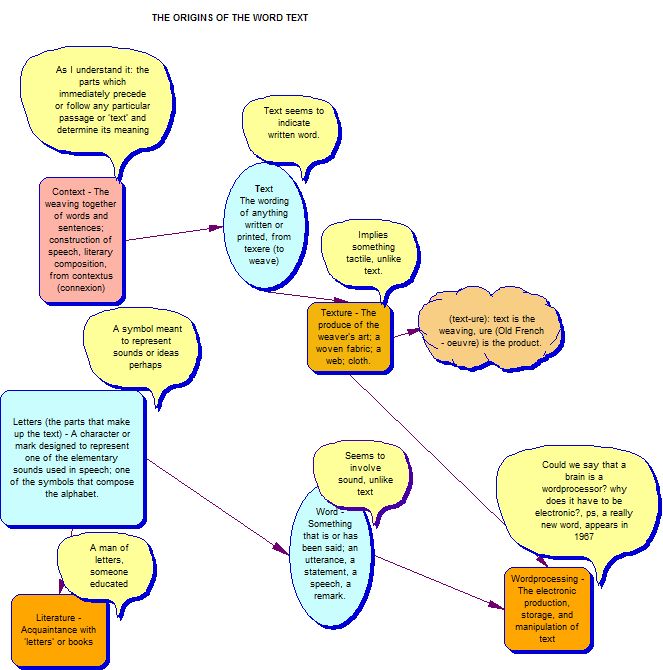 As I looked up the word "text", I started to see the link from one term to another.  It seemed natural to display my findings in this fashion.  The yellow bubbles are my own thought processes.  Once this organizer was complete, I felt the title could be "from text to technology".
If you asked me last year to define technology I would have used words like: modern, electronic, fast, technical and expensive. Recently I have come to a different personal understanding of technology. I believe that technology is anything that allows you to work more efficiently. The wheel was a technological wonder in its day as was the pencil. The fellow in this youtube video seems to have the same view of technology. I love working "smarter not harder". As a matter of fact my wife teases me and says that if I die before she does she is going to engrave "He worked smarter not harder" on my gravestone.