Category —
Discussion
I have spend the evening playing with Dump'r- looking at a variety of different slide-show tools, cartooning sites, loading my pictures of Peru to Flick'r and then plotting them on a Google.map. This is going to take a while to complete so won't post the results here- but it has been fun. I thought I should try something I had never done before- well I've never used Dump'r before either but I thought I should learn a little more about widgets. Robin Good has 6 very imformative videos about them on YouTube So just to try it I created one in Pol-Daddy- Here is my widget.
In the December, 2009 edition of National Geographic, I came across an article by A.R. Williams detailing how the oldest known New Testament is now available online at http://codexsinaiticus.org/en/ . According to Williams, the virtual version lets you see additions that were made and corrections that were overwritten. I tried it out and it is truly realistic. It took scholars, including the British Library, over four years to digitize! Amazing. The tools at http://codexsinaiticus.org/en/manuscript.aspx really give you the feeling that you are flipping through the ancient codex.
For those of you following the Google project that aims to digitize the largest collection of books, it would appear that they have revised their terms… here is an update!
I found an interesting transcript of an interview involving Mark Prensky and Mark Bauerlein on the topic of education and technology.  The interview took place on June 25, 2009 and is posted on PBS' Frontline: Digital Nation link. It's interesting beyond the topic  (respecting youth culture, gaming to learn, integrating ed-tech) and on the level of "why isn't this a sound file"? Something to ponder!
Click to PBS Frontline: Digital Nation
My husband works for Enquiro and they do market strategies for search engines.  The are a small Kelowna, BC company but all of their business is large US corporation and the major search engine players.  The recent reading by Bolter and Kress made me think of the connections to what this company has to offer.  One line of Enquio's business is eye-tracking research – they capture where people look on a screen and create an image of it.  I have taken part in these studies and have seen the images of where by eyes have looked.  Very interesting technology and very powerful for the company's to utilize.  If you are interested take a look.
I was reading this New York Times article about Pixable and it made me wonder if a similar trend will emerge in writing. Just as Pixable envisions getting images back off the web and into traditional photo albums, will technology provide the means by which we will get text back into tangible forms?
This group of articles was brought to my attention.  Five authors discuss their research on ebooks and the future of literacy.  I am hoping to find some answers to many questions raised in our current reading.
I hope you find it thought provoking and look forward to continuing the discussion on this topic.
Archimedes palimpsest was thought to be lost, but it was actually recovered 1000 years later! A palimpsest is defined as "a manuscript written on parchment that has another text written over it, leaving two (or more) layers of visible writing." (NOVA, 2003).
Archimedes was considered the greatest mathematician in Greek history. His priceless (actually valued at approximately 2 million dollars at auction) palimpsest was traced by NOVA  (2003) and makes for an interesting story related to ancient text and the development of writing technologies. Here is an excerpt:
"circa 1000
A scribe working in Constantinople handwrites a copy of the Archimedes treatises, including their accompanying diagrams and calculations, onto parchment, which is assembled into a book.
circa 1200
A Christian monk handwrites prayers in Greek over the Archimedes text, turning the old mathematical text into a new prayer book. The book is now a palimpsest, a manuscript with a layer of text written over an earlier scraped- or washed-off text". (NOVA, 2003)
I remembered that Richard Clement  (1997) wrote about the practice of scraping off still-wet ink in Medieval and Renaissance Book Production: Manuscript Books. It is interesting to see an actual example of a 1000 year old text that survived this process! The link has some great images and additional links you may be interested in.
By the way, I found this site by using the Librarian's Internet Index. I hope it helps some classmates with their research. I also tried to hyperlink in this post, but my links led to a 404 Error message. Ah well, the old fashioned digital literacy method of "cut and paste into your browser " will work for the links. I posted them below. Erin
References
Clement, R. (1997). Medieval and renaissance book production: Manuscript books. Available online 16, October, 2009, from http://www.the-orb.net/encyclop/culture/books/medbook1.html
Librarian's internet index. (2009). Available online 16, October, 2009, from http://www.lii.org/
NOVA. (2003). Infinite secrets: The Archimede's palimpsest. Available online 15, October, 2009 from http://www.pbs.org/wgbh/nova/archimedes/palimpsest.html
Nokia has developed a laptop called the OLED Scroll where the screen rolls up like a scroll.  You would unroll the touch-sensitive screen to use it. 
Check it out at: http://www.markpascua.com/2008/09/23/nokia-scroll-oled-laptop/
In a number of the readings for this course the philosopher Derrida has been mentioned, along his "graphocentric" view that writing is a more primary type of communication than speech. He is a difficult philosopher to understand, but I've studied his thought somewhat in the past and I'd like to try to clarify his ideas about writing as far as I understand them.
The background that Derrida was coming from, and reacting against, was structuralism. According to structuralism, words have their meaning by how they relate to other words in a whole system of language. Proponents of structuralism thus draw a distinction between language (the whole system that gives words their meaning) and speech (the things we actually say). The distinction is discussed by Stephen Fry and Hugh Laurie in this comedy sketch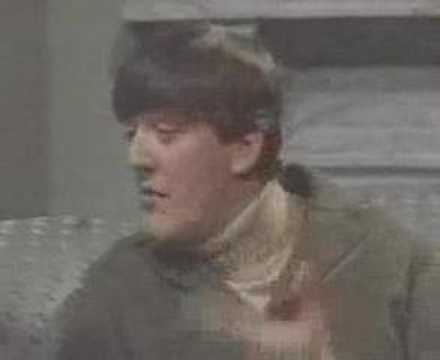 A related distinction made by structuralists was that between the signified and the signifier. The signified is the place a word takes in the whole system of language and the signifier is the spoken sound of the word or written mark of the word.
Derrida rejected the idea of a fixed system of language giving meaning to everything written and spoken, and rejected the idea that there is a signified that gives meaning to the signifier. He believed that language should be understood in terms of the signifiers only, which in turn are to be understood as dependent on acts of signifying. These acts of signifying have meaning, he thought, only in relation to all other acts of signifying. With new acts of signifying, these relations could change, and so meanings are never fixed but are open to change, their meaning being constantly "deferred". His method of "deconstruction" is an attempt to change received meanings and received interpretations, using methods such as reversing the received view about what is important and what is unimportant in a text.
Derrida believed that the notion that speech is primary and writing secondary was based on the mistaken view that, with speech, the meaning of our words is something "present". According to this view, the person who speaks has mastered the system of language to some extent and is an authority on what he or she means. For instance, when you speak to me I am able to respond to your questions and reply, "No, what I meant was…" The written word, in contrast, is something whose meaning is more elusive, for it depends on what the writer meant when he or she wrote it, and the writer may be absent and might even be dead when we read it.
Although he acknowledged that from a historical point of view speech appeared before writing, Derrida thought that writing revealed the nature of language more fully than speech did, for it reflected the way in which the meanings of what we say are not within our control and are constantly open to revision and reinterpretation.
The clearest introduction to Derrida's views on writing that I have come across is in Richard Harland's book Superstructuralism. You can see some of it here.
There's also a movie about Derrida on google video, which is not too bad
http://video.google.com/videoplay?docid=-7347615341871798222

To be honest, my initial reaction to the community web log was " oh, another forum". There are too many similar forums out there that the experience of sharing ideas and thoughts within a virtual community has become repetitive and predictable. However, after exploring the Etec540 weblog and reading my classmates' submissions, I have discovered that this weblog is not just another forum. Posting responses, comments and opinions on the weblog encouraged me to think about reading and writing and how they change as the environment and technologies used alter. The same message written on the word processor and on a piece of paper communicates different information. For example, the penmenship and spelling errors associated with writing on paper can suggest author's character. This compels me to define text and technologies carefully and consider the power and influence technologies have on text and vice versa.
The technologies used for the postings on this web log allow students to attach relevant and unique images and video clips to the posts therefore making exploration through the blog more fun at the same time indicating the extra time and effort people have invested into the blog. The blog is a collage of our thoughts. As we continue to make meaningful posts we continue to inspire one another thus further nurturing a purposeful virtual community.
Why this picture you ask? I guess it's because I feel this proverb epitomizes the changing nature of text and technology and the fact that it's not something we can or should ignore.
I want to begin by saying that it's taking a while for me to get use to using this type of forum. As day passes, I believe I'm getting a little better at navigating and contributing to our weblog. I must say I was a little skeptical at first, perhaps because I'm more 'old school' and more comfortable using older technologies. That being said, I'm always up for a challenge and this certainly seems to be pushing me to the max. It helps knowing that I'm not the only one that's struggling on the technology side of things. The bottom line is that I'm learning plenty of new and interesting things.
I was surprised to learn in Module 1 that there were so many different definitions for text and technology and that these terms are used in so many different contexts. I'm used to be surrounded by books but in more recent years, I find myself spending more time working from a computer. I'm not a gamer but I can see the attraction. I think the internet is a wonderful thing and I use it for many reasons, everything from communicating to family and friends, to finding out information on just about anything. I believe that, as a technology, the internet is responsible for transforming the way we see and use text. I don't know if that's a good thing or a bad thing.
After I listened to O'Donnell's From Papyrus to Cyberspace and reviewed the discussion postings on the text and technology, I couldn't help but wonder what lies ahead. I think it might be interesting to listen to what people are prophesying about today, particularly with respect to where they believe the technology is expected to go but also about how they think it will alter the way we view text. Based on the Papyrus to Cyberspace experience, we shouldn't be surprised to learn that some of what is said will come to pass. We should also expect the unexpected as it is almost impossible to predict with certainly, just how things will unfold. As with most things in life, what we think will happen and what actually happened are usually two different things.
If I could rewrite my first impressions on text and technology I suspect the entries would quite different than what they are now. I can't say I would have changed what I wrote previously. Instead, I would probably have expanded it to include all the other things I hadn't thought of previously or hadn't known until now. Perhaps it would be worthwhile to reflect on these two terms again, towards the end of the course.
Bruce
As I was reading chapter four of Ong's book I had a thought (which I promptly wrote down so I would not forget). Could it be possible that our brains are prewired or preconditioned for oral forms of communitcation only. Perhaps that is why it is difficult for some to express their thoughts clearly in written form? Oral communication is an innate human product whereas writing is a learned process. In short, I wonder if there is a correlation.
I thought I would post my disscussion response from Ong's chapter three. So far, I have enjoyed the course and am including lots of our ideas in my class. Even though I have a huge learning curve, ( this is my first course in the program) I am finding it easier due to the openness of the class community. So a huge thank you to all of you!
Writing has had much effect on human thought process. Human thought changes with the minor introduction of literacy. The mind shifts from existential or situational intelligence and moves towards more abstract thinking. However, there is something to be said about the oral cultural thinking. It seems very straight-forward and logical. The example of the study with the bears in the North comes to mind. Luria's questioning involving simple deductive reasoning revealed a different type of answer than I was prepared for. The Illiterate simply stated they had never been there and each region has its own type of animal. I quite liked that answer. It seems more honest or truthful. It is important to think in terms of comprehensive descriptions and more analytic thought but I still find the merits in a oral cultures outlook. Ong suggests that writing provides us with the ability to free the mind of arduous tasks of creating "memorable thoughts" and allows us to turn to more "outside the box thinking".
Other changes in human processes that occur due to writing include our ability to self analyze and use abstract categorization. The studies identified in Ong's work suggest that non-literate cultures do not fully possess the ability to look inside them and reflect. In other words they do not have the ability self analyze. Therefore, being able to write (which in itself is an individualistic task) provides us with the ability to look inwards at ourselves whereas oral cultures still think of themselves in external circumstances. The other major change with the introduction of writing is our ability to classify abstractly. Oral cultures will give the names for objects "plate" vs. the abstract "circle".
These changes to some extent weaken memory. Ong suggests that oral cultures remember by using formulas (repetition, mnemonic patters, alliteration, epithets etc) to help remember what has been said. Orality and Literacy also demonstrates that oral cultures do not memorize verbatim, but make changes due to their own interpretation and the climate of their audience. However, because we have the ability to "write things down" instead of remembering without the use of paper and pen I believe we have lost some of our ability to remember. From my own personal experience, if I do not "write it down" I may forget to do it. Our loss of formulas in speech may contribute to our loss of memory. Ong indicates that with the introduction of writing, came the loss of formulas due to sounding clichéd or redundant. The loss of this may contribute to our inability to remember as well as those in an oral culture.
Does it matter? To some extent it matters. We will become increasingly reliant on "looking stuff up" and the loss itself is regrettable. I somewhat romanticize the oral cultures because of their ability to recite beautiful poems and how they are able to think in such a straightforward (honest) manor. In regards to memory, I find that sometimes I have brilliant insights, subsequently I don't write it down, and forget. I wonder if someone in a primarily oral culture would have the same problem. Still, my bias leans towards literate cultures and the ability to use deductive reasoning and abstract thinking, which truly opens so many more doors in intellectual exploration. I would not be able to talk to all the authors I have read and never would have known their opinions or thoughts on a subject. For that I am fortunate. In that regard, if we have the ability to write something down to remember it are we really loosing anything tangible?
Hi everyone,
I've activated a different theme/skin for the weblog as there were a couple of limitations on how the previous theme was presenting content, both in the tag-cloud (a long list) and on category pages (without the images).  I hope that this is not to unsettling for anyone!
Does anyone have any suggestions for the top-banner image that we should use for the weblog?  Perhaps there is something in the Creative Commons archive that will work.  The columns in this theme are narrower than was the case with the last one.  This can be annoying with larger images, but you can also resize them using the editing window that comes up when you are making your post.
Cheers,
Jeff
I love looking at the diverse collection of photos and submissions on this site!   I find it fascinating how different each photo is, yet each still captures an aspect of communication through orality, text, and/or technology, many in ways I had never thought of.  I have appreciated the insights and comments from my peers.  As I read through Ong's, "Orality and Literacy" I have pondered how our comments and posts would differ if we were all together discussing these topics face-to-face.  I have found that when posting to the blog site, I usually just sit down and begin typing what comes to my mind, in a style more similar to how I would speak.  In this way I feel that this weblog allows for such a high level of creativity by offering a comfortable and accepting (and perhaps more informal) learning community.  I do find the threading aspect of the discussions within Vista a visually more pleasing method of connecting our discussions.  However when writing a discussion to be posted in Vista I tend to rewrite and rework my passage much more than I do when posting a blog!  I enjoy and appreciate the variety of methods (Weblog, Vista, Wiki) for sharing our thoughts and I have and would continue to use these methods with my students.  I have found that my students love seeing their work, comments, projects, artwork (anything!) posted on a blog site for everyone to see.
Last semester for ETEC*565, I created blog which housed my personal learning journey for the course. This was my first foray into blogging. From this experience I learned how important it is to regularly contribute to a blog in order to fully engage with the subject matter. As well I ended up with a nice snapshot of my growth over the course of the semester. Our Community Weblog takes a different approach in that all of us post to the same blog – a shift from building individual knowledge to creating distributed knowledge, built on collaborative and network literacies. This exposes all of us to diverse perspectives allowing each of us to construct new understandings of the topics raised. As our communal writing space archives all contributions, we will also be able to reflect back on our collaborative journey by the end of the course.
Postman (1992) states "new technologies alter the structure of our interests: the things we think about. They alter the character of our symbols: the things we think with. And they alter the nature of community: the arena in which thoughts develop" (p. 20). With our Community Weblog environment we can create a knowledge database with a structure that allows for spontaneity, the ability to link back to original sources and the ability to embed images and video to support our writings. The disorientating nature of the navigation differs so greatly from the linear ways of learning most of us are familiar with, thus it can be frustrating for many to determine where to start or how to proceed with participating.
On the other hand, the blog environment encourages us to push our understandings beyond text-to-text communication to create dynamic and flexible interpretations that we can continue to build on. Unlike our discussion forums, ideas are much more dispersed and are organized only by the tags and categories the participants employ. This allows for each individual to create their own connections and take responsibility for their own learning. The comments feature allows us to make connections and begin to tie ideas together. We all are responsible for the success of our shared space and thus participation will be essential throughout the semester for this to be a truly valuable experience.
On that note, with two sections contributing to the blog the amount of posts to-date is overwhelming – almost too many to keep track of. The search, tagging and category functions are absolutely key to being able to find information – somewhat of an organized chaos!
Karen Stephenson states that "experience has long been considered the best teacher of knowledge. Since we cannot experience everything, other people's experiences, and hence other people, become the surrogate for knowledge. 'I store my knowledge in my friends' is an axiom for collecting knowledge through collecting people" (Stephenson, in Siemens, 2004, An Alternative Theory, para.1). As we all have different skills sets, experiences and knowledge we bring to the table, as a collective we are much stronger than we are on our own. Our weblog then becomes yet another link of our personal learning networks. It will be truly interesting to see how this space evolves over time.
References
Postman, N. (1992). Technopoly: The surrender of culture to technology. New York: Vintage Books.
Siemens, G. (2004). Connectivism: A learning theory for the digital age. Retrieved September 20, 2009, from http://www.elearnspace.org/Articles/connectivism.htm
As  we move from an industrial based society to an information based society, the role of text and technology continues to metamorphosize. (I think I just invented a word). Simple perceptions of what comprises text are no longer valid. Postman refers to a principle of technological change: the collision of two world views—text and television (p.16). One can perceive a collision simply within the world of text as emerging technologies allow for the display of text in heretofore unimagined formats (hypertext, digital readers, sixth sense). Particularly in regards to education, bounded by a dependence upon traditional codex, the value of  "the unreal knowledge acquired through the written word" (Postman, p. 17) varies.
How important is handwriting in an age of electronic print  formats?( http://www.msnbc.msn.com/id/32925695/ns/us_news-education/?GT1=43001 )
While Postman emphasizes the group learning, cooperation and social responsibility prominent in orality and contrasts this with the introspection and isolation of the printed word, the union of  emerging technologies with text have resulted in new print spaces with all the elements of oral communication: wikis, blogs, hypermedia formats, etc. As fellow classmates have mentioned, we are a post-print society adapting to new formats of text representation. How will this affect the value of knowledge and which formats of knowledge are valued?
References
Postman, N. (1992). Technopoly: The surrender of culture to technology. New York: Vintage Books.