Category —
Rip.Mix.Feed.
In one of my previous MET courses, some classmates created comic strips with ToonDoo. I never had a chance to try it out, so I thought I'd make one for this course.

Click on the image to see full size.
When you move from one country to another to live, you think you gathered the things you had planned previously. But it is not always true! Before coming to Vancouver , my childhood pictures were among those things that I had planned to bring to refresh my memory, from time to time. Till now I haven't found them and even this weekend I searched the whole home but it was useless. Thanks to flickr and Web 2.0 that help to feel some of those memorable places, people, food, .…and remember you that once upon a time you were there and you know those railroads, places, people.
Some of the pictures seem to be exactly the same as of my own pictures and the others are very similar. You can have a look at them here.
I create many digital booktalks for use in my school. Although I have directed students to use animoto, I myself usually used moviemaker or photostory, so I decided to give animoto a try. I found animoto to be quite user friendly and intuitive in its design. I found myself frustrated with the time limit of the free version, I was not able to use all of the images and text I created. While my usual booktalks I create cover 8-10 books, this one for animoto contains one book only and a related magazine article. I used images I took (copyright). I was quite impressed with the selection of music animoto contained. While for my purposes, I think photostory is the best option, I will continue to direct students too animoto as I think it serves their purposes well. I also see it as a means of introducing teachers to digital production.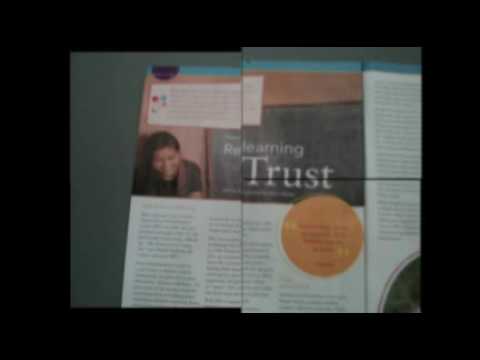 I have used delicious for my personal bookmarking for quite some time now, but I had not yet made the transference to educational use. I created one delicious account for the sole purpose of accumulating "professional" bookmarks which I can use for teacher training, etc.  http://delicious.com/lizhood
Then I had a brainstorm. I am in the midst of working with an 8th grade teacher on research projects. We generated a list of topics with the students of current issues they feel strongly about and they chose research topics based on their interest. Topics range from cell phones in school to dress code to teen pregnancy.  Because the issues are "hot topics" much of the commentary/data on these topics is best found on the internet. In order to facilitate students research time, I created a delicious account for my media center  (http://delicious.com/stmsmedia) and began accumulating bookmarks as we (students, teacher and I) found appropriate sites.  I linked the delicious account to the online card catalogue.
Then I sent out a school wide email  with the account information and an explanation of delicious  (I attached  a video https://www.youtube.com/watch?v=aTtbnBNs5C8)so that we can begin to accumulate bookmarks pertaining to multiple curricular areas. I was so excited on Thursday and Friday because a math class was researching statistical data so we began bookmarking and tagging those sites. I am in hopes that more teachers will begin to bookmark and tag online sites as they realize the value of this tool.
I have spend the evening playing with Dump'r- looking at a variety of different slide-show tools, cartooning sites, loading my pictures of Peru to Flick'r and then plotting them on a Google.map. This is going to take a while to complete so won't post the results here- but it has been fun. I thought I should try something I had never done before- well I've never used Dump'r before either but I thought I should learn a little more about widgets. Robin Good has 6 very imformative videos about them on YouTube So just to try it I created one in Pol-Daddy- Here is my widget.
The title is a play on words based on a well-known puzzle.
I opted to use Animoto.com for my rip.mix.feed contribution. It's a Web 2.0 tool that bills itself as "the end of slideshows."  It allows the user to combine images and music (which you supply or choose from their selections) in a type of music video/mashup.  The site takes care of  transitions between the images using a variety of effects adjusting timing to the chosen music.  The free version (which I used) is limited to 30-second compositions.  All of the images I used, apart from the first one, I found in Flickr searches for images with creative commons licensing. (I have a list of all the Flickr URLs and if anyone is interested I can post it as an attachment.)  The start image was generated with the Bart Simpson chalk board generator.   The number of images one can squeeze into 30 seconds varies somewhat depending on the music selected, but is around 15-18.  Fast-paced tunes show the slides more quickly and use a few more images than slower ones.  The site allows for easy remixes, and it's possible to add and remove images until the desired effect is achieved.  It's also possible to get stuck endlessly tweaking while looking for the 'perfect' edit (don't ask me how I know…).  I'll post links to two versions that use the same images but different music.  The first, which I not very creatively called Text technologies 1, uses 30 seconds of a song called Finally by the Sunday Runners.  The second, Text technologies v.2, uses a faster indie piece called 1234 by Fake which I enjoy for its lyrics: "I'm just sick of my school, and my teacher's a fool.." Certainly, many Web 2.0 tools are fun and engaging.  Every time I (re-)make this realization I tell myself that I have to get more creative about encorporating them into my lessons!
Here is post 2 of 2. I have played around all week with Kerploof, Tikatok, and writing a story that didn't sound lame. Needless to say, each time I played around on the websites I was annoyed at what I had written/created. So, there is no link here as to what I've done, but instead I'll share my thoughts about these sites.
I was really intrigued by the ease of the Tikatok website, and since it was designed for primary students I  created a few mini-lessons for my own students for next year. Kerploof was also easy to use in creating a story. What I really liked was the way that one could enlarge, rotate the graphic and even add a text box. I think this website would appeal to my students as well.
After I created, deleted, and recreated over and over again, I decided to check out other ways to tell a story. For my intermediate students, the Dandelife timeline site will be an excellent addition to the social studies curriculum. It would be neat for the students to create a timeline of  themselves throughout elementary school and share with their peers, teachers, and parents at the end of the school year. They could add photos and link to other students in their class.
Overall, I enjoyed this activity more the second time around, as I have more time to take what I have learned and write up some lessons for the upcoming year.
HI, for this exercise I elected to do a merger of dada poetry and environmental art by Bansky. As a traditional poet, I am not a particular fan of dada so this is a stretch, but I found an online dada generator and had fun plugging in our readings! If anyone wants it, I can dig it up.
For this exercise I tried slideshare for the first time and did not realize I needed to upload audio files separately. It was pretty easy to use though!
My link is at: 
Hello Everyone
Here's my contribution to Rip, Mix, Feed and Reload.
You probably recognized the picture and you're certainly going to be able to relate to the contents of this slide show.
WARNING: Don't get your hopes up because it's not really all that exciting! Remember… this is really about trying out new Web 2.0 technologies, right?
Click here to review the SlideShare Presentation
Cheers all
Bruce
http://www.diigo.com/user/david_b?tab=3
Just a few videos for fun.
I chose to use social networking for this assignment because I wanted to show a few videos that I've found this semester. I used diigo for my links. This is a very easy to use site. I've found that social networking works very well with students, I have used it before with high school and middle school aged students and have always been amazed at the quality of links that they find.
David.
SoI had this great idea of mashing up the same song by two different artists, Tom Waits doing his song 'Long Way Home' and Norah Jones doing her version of the same song.  I worked at it for quite a while, then thought, o.k. that's long enough I'll post what I've got.  Unfortunately, after all that time the security wouldn't allow it.  Gee was I happy.  So instead I'm going to follow John's lead and  post something that I did last summer for another class.  I like it better than the resulting song that i got anyway, it was a bit rough and the transitions weren't quite as smooth as i would have liked.  You can find the PhotoPeach story  here . (Make sure your speakers are on)

In response to the  Rip.Mix.Feed activity I created a Wiki in which we can list sites we have used in creating our projects, collaboratively creating a list of resources all in one place that we could access when we need.    I have started us off with 25 sites and would love to have others add new sites and catagories from their own experiences!
The Wiki is called called Social Technologies List and can be accessed with the following information:
username:  metubc
password: ubcmet
You can also log in through http://socialtechnologieslist.wiki-site.com/ .  It would be so incredible to have an ongoing site we could all add to and pull from when needed!  We can keep it up after the course ends and add to/pull from the site as needed.
~~Caroline~~
For my project I decided to create a slideshow which allowed me to create a sort of montage of abstract feelings, experiences and thoughts about living in Paris for two years. 
In commencing the project I had an idea already in my head of what I wanted but the challenge was to locate programs which would do what I needed them to do and provide the dark, artsy effects I was looking for.  Many of the sites allow for playful photo editing and slideshow production but I managed to locate one that allowed for a bit more. 
I originally created the show through slide.com but found the program limiting despite its user-friendly approach.  I realized it was not really me who was in control of the creation.  I looked at mytimeline.com and while it provided what I was looking for in terms of effects, the background was unchangeable and did not give the right feel to it.  I was searching for a site that would allow transitions, 15+ slides, text additions on the slides themselves, music, and…was free.  I was asking for a lot! 
Through Kizoa I found a program that did everything I wanted, with a few catches, however.  The transition selection is great, slide number is perfect, but you need to pay a fee to either add text or your own music.  In my stubborn quest to find free resources, I continued to search and could not locate a single site which would serve my needs and provide the right feel.  After doing some creative work with Picnik, a free photo edit site which you can access online without downloading, I added text to the images.  Within Kizoa, I located a song that would work and put it all together.
The experience for me was incredibly rich.  I learned so much about available programs, their particular strengths and weaknesses, and furthered abilities to 'get around' the limitations of sites by using a patchwork approach of sites, knowledge, and skills.
Please click on the link below for the slideshow.  My approach was to create something technological that represented my feelings… I aimed to cross the barrier between sterile machine and human feeling via the stereotypically sterile medium of the computer. 
Wait for a quiet moment, sit back, relax, open the show to full screen, listen to the music and let the slideshow take you through the 15 slide, 2.5 minute experience.
Well, my attempt didn't turn out as I hoped. Things are a tad fuzzy, but perhaps that's appropriate…
Given that we are adding our favourite web 2.0/social media experiences, I thought that I'd provide a very brief history of social media:
Social Technologies have become a staple part of today's digital world. Millions of people make social connections online through various websites like Facebook, Twitter and Flickr to name just a few. The popularity of such sites have seen incredible growth over the last few years, but when did this trend start? What follows is a brief history of social networking on the Internet.
1980's :
Compuserve, which was around since the 1970s, evolved into a network that would allow members to share files. Discussion forums began to emerge as a result.
Another network called BBS (Bulletin Board System) allowed users to communicate using a modem over telephone lines. Long distance charges would apply so many Bulletin Boards were strictly local.
1990's:
AOL (America Online) was in its heyday with member-created communities and searchable profiles.
Classmates.com became very popular as people tried to use the Internet to reconnect.
2000's:
Friendster is launched. This site allowed members so see the connections that they knew they had and discover connections that they did not realize they had in common with others.
LinkedIn, a networking resource aimed mostly at professionals and businesspeople, is created.
MySpace becomes a huge hit mostly in the US. Its key demographic is the under 30 crowd.
Facebook quickly grows into the world's largest online social networking site.
Twitter is launched and catches on quickly for those who can't seem to get enough minutiae. Where and what social networks will evolve into is anybody's guess.
Hello my friends,
I have had the idea of making cartoons to create communication in the foreign language classroom, but though I had searched the Net, I hadn't found anything suitable. Well, from the great site Cogdogroo: 50 Web 2.0 Ways to Tell a Story (http://cogdogroo.wikispaces.com/StoryTools#toc33), I got on to PikiStrips (http://www.comeeko.com/">http://www.comeeko.com/)
It actually took me a long time to make the comic, first taking the pictures and then figuring out how to work the software. The program is pretty cool, but it has a few bugs; plus it doesn't give much flexibility with the layout. Nevertheless, I am happy with the results (except for the photo on page 2 that is rotated 90º; I can't fix it, so never mind).
The idea was to make a comic with photos and bubbles instead of words so that students create their own dialogues. Of course, the next step would be to have the students create their own comics and then switch them around, so each group got another group's comic.
This is the first page of the three that make up the complete story:

They look a lot better if you download them, as the images are much bigger.
You can find page 1 at: http://www.comeeko.com/ps/gallery/view_image/33124353
You can find page 2 at:
http://www.comeeko.com/ps/gallery/view_image/33124943
You can find page 3 at: http://www.comeeko.com/ps/gallery/view_image/33125163
There is a button on the page to download the image. I hope you enjoy the story.
Dilip
I am now officially a huge Kerpoof fan. I read the terms of service and agreed to it. I checked the privacy policy and online safety measures and considered them better than other social networks. One feature I thought was great was the use of a teacher's e-mail address to create student accounts and class lists, as a level of security. Student's personal info is not required as they do not need to create their account: The teacher creates accounts and can give students code names. In addition, the teacher can monitor student work and reset passwords if need be. Teachers can search the community for lesson plans and learn how to use the tools very easily. Beyond these details, Kerpoof is FUN!
I learned how to make a movie and how to do a drawing in under 30 minutes. I would link my movie, which really lacked direction and a plot, but Kerpoof stopped me due to text content. I didn't use any inappropriate words, but perhaps Kerpoof had a high filter for safety reasons. Perhaps you should thank Kerpoof for refusing me a link as my movie consisted of a dog, a snail and a penguin hanging out at the park! Not quite Academy material….The site is designed for children (very graphical with fun links) and there are some great lessons banked for teachers on art, social studies and writing!
Visit and play/learn at http://www.kerpoof.com/teach
" the eyes are a little creepy :O
I was interested in a photo changed to drawing.  I think I will have to visit this site again.