Typography shapes language and makes the written word 'visible'. With this in mind I felt that it was essential to be cognizant about how my major project would be presented in its final format. In support of my research on type in digital spaces, I created an 'electronic book' of sorts, using Adobe InDesign CS4 and Adobe Acrobat 9. Essentially I took a traditionally written essay and then modified and designed it to fit a digital space. The end result was supposed to be an interactive .swf file but I ran into too many technical difficulties. So what resulted was an interactive PDF book.
The e-book was designed to have a sequential structure, supported by a table of contents, headings and page numbering – much like that of a traditional printed book. However, the e-book extends beyond the boundaries of the 'page' as the user, through hyperlinks, can explore multiple and diverse worlds of information located online. Bolter (2001) uses the term remediation to describe how new technologies refashion the old. Ultimately, this project pays homage to the printed book, but maintains its own unique characteristics specific to the electronic world.
To view the book click on the PDF Book link below. The file should open in a web browser. If by chance, you need Acrobat Reader to view the file and you do not have the latest version you can download it here: http://get.adobe.com/reader/
You can navigate through the document using the arrows in the top navigation bar of the document window. Alternatively you can jump to specific content by using the associated Bookmarks (located in left-hand navigation bar) or by clicking on the chapter links in the Table of Contents. As you navigate through the pages you will be prompted to visit websites as well as complete short activities. An accessible Word version of the essay is also available below.
References
Bolter, J.D. (2001). Writing space: Computers, hypertext, and the remediation of print. New Jersey: Lawrence Erlbaum Associates, Publishers.
To view my project, click on the following links:
E-Type: The Visual Language of Typography (PDF Book)
I love fonts so in the spirit of our RipMixFeed activity, I found this tool for spelling out words using Flickr images. You can change up the images on-the-fly until you get a 'word image' that you like. Here is a sample of what I came up with:
Create your own Flickr words at: http://metaatem.net/words/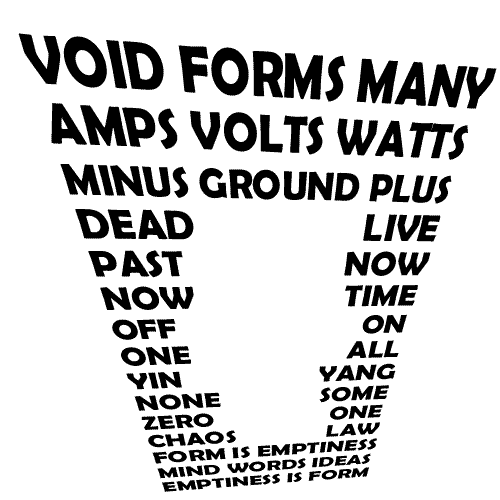 Text, to me, is what we are, what I am. I love words and everything they make us and give us. I love reading. I love seeing words. In this information age, text defines us and gives us life. Text has allowed us to progress and move forward, but it has also isolated us from one another. We no longer need to seek the company of others in person. We can enclose ourselves in the safety of our homes and take on any persona our imagination allows. To me, text is me. It is the first time my daughter spells her name with the inverted C.
I chose the above concrete poem to represent what text is to me because it conveys what text is.  It does an excellent job of illustrating the depth and breadth of text in modern languages.
news obsession word flow experiment #1, originally uploaded by Samuel Huron.
Like technology, text is a system. Instead of human-made tools, text involves the structure and order of symbols that reflect oral language (i.e. sentences, phrases, etc.)
Hermia

Hi everyone,
After reading through the WordPress entries today, I found that most of the passages I wanted to use had already been quoted. As a result, to find a short passage that gives meaning to the word text I decided to try my luck using the "Great Library 2.0", i.e. Google Books, using the search terms "defining text". I expected to find a deep, philosophical quote that would WOW you all. Well, I was indeed, surprised by the results. Of the top twenty hits, thirteen were in some way related to computer programming or desktop publishing software. I then tried a more refined search by looking for the exact phrase "defining text" (I did not use quotations the first time). This actually increased the number of computer related books to sixteen. "Define text" resulted in sixteen as IT results as well. Many searches later, I tried searching for "the origins of text". Finally I started seeing some relevant results. However, there were still results for Unix and a text-mining computer application.
While the search results alone do not provide a passage that gives meaning to the word text, I think that the results shed light on the changing definition of the word text in the information age. The word text has become synonymous with the inventions of the digital age: text as a programming language, text as the basis for word processing, text as the foundation of the World Wide Web, etc. This was also stressed by O'Donnell and Engell when discussing the impacts that technology has had on education and on today's youth, especially in regards to new language developing in text and e-mail. Technology not only redefines and revolutionizes text, it also reshapes the way interact with text and changes and reinvents the media through which we use it to communicate.
John
Text defined
Text – In the strictest sense, I take this to mean the written word. It can be in any language that has a written component to it. Text can appear in just about any order (i.e. left to right, right to left, top to bottom, bottom to top). It can be presented in any number of ways (i.e. carved, painted, etched, engraved) using a variety of mediums (i.e. using paper, wood, stone, metal). Text is a form of expression – painters paint, photographers take pictures, directors make movies and writers write – they all have something they want to say.
Bruce