Phylum Porifera – The Sponges
Porifera -> "Pore" "Bearing"  Latin Name means to bear pores.
Appeared ~700 Million years ago (Oldest multicellular animals on Earth)
All other animal groups evolved from sponge-like ancestors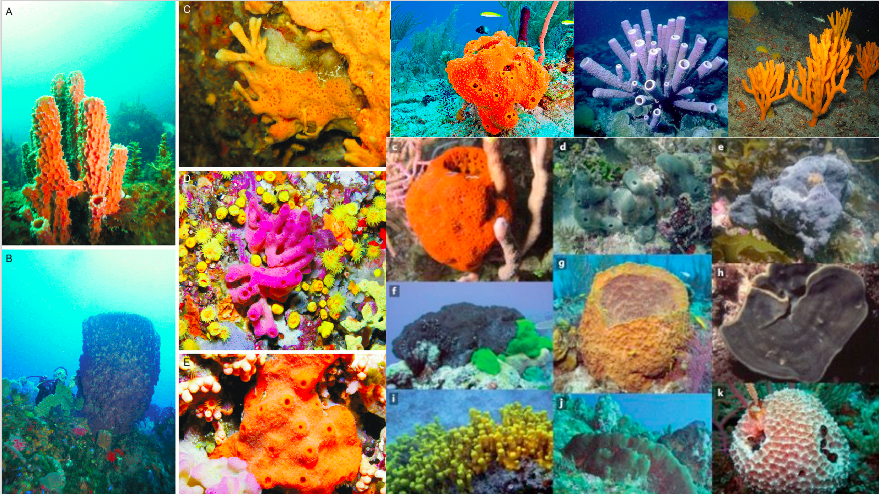 A. Evolution of Body Plan
1. First Multicellular animal – basic body plan is just four types of cells arranged around a series of pores/canals.
Water is pulled into the spongocoel through pores and leaves out the osculum (top of sponge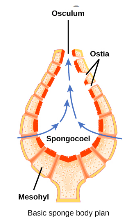 2. Sessile (Immobile/fixed in one place)
3. Sponges are supported by a "skeleton" of spicules.
Spicules are made of calcium carbonate (solid), silica, or spongin (a type of collagen – flexible and soft).
Spicules hold pores open and keep sponge shape.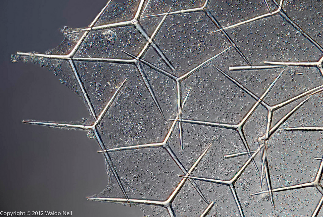 Asymmetrical – No planes of symmetry.
B. Feeding and Excretion
How Sponges Feed:
Sponges are filter feeders. They pull water into the spongocoel (middle cavity of a sponge) through pores.
The spongocoel and canals are lined with choanocytes which have flagella (whip-like tails) which pull food inward.
Food enters the cell through phagocytosis (Same as many unicellular organisms such as amoebas)
Choanocytes (Collar Cells) – Cells surrounding the "collar" that strains food from the water.
Parasitic Sponges – Boring Sponges!
The sponges bore into corals or shelled animals.
The sponges grow in these new holes.
The host dies from this or becomes more susceptible to predation.
C. Respiration and Circulation
No respiratory or circulatory system! Each cell is responsible for it's own food/waste etc. Sponges function more like a colony of unicellular organisms.
CO2/O2 enter/exit through simple diffusion (movement of a substance across the cell membrane)
D. Reproduction
Sponges reproduce asexually and sexually.
Sexual Reproduction
Hermaphrodites with Internal Fertilization
Sponges are usually both male and female but rarely self-fertilize.
"Male" releases sperm which enters the "female" sponge for internal fertilization.
Larvae are released. These drift until they attach to a rock and grow into an adult sponge.
This is called broadcast spawning.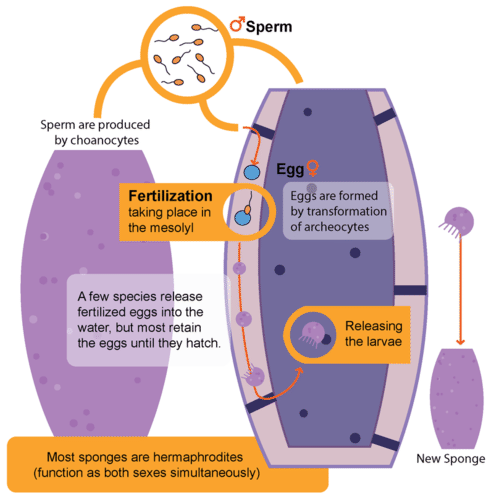 Phylum Porifera – Who cares?
Glass sponge reefs used to be common, but now are only found off of BCs coast. Individuals in BCs glass sponge reefs are 25000 years old!
We get various antibiotics from sponges! (and Acyclovir – first antiviral used to fight herpes).
Venus Flower Basket Sponge – the strongest "glass" structure in nature. These sponges have spicules that transmit light better than optic fibres.
Environmentally friendly sponges?
Review Questions:
Sponges function more like a colony of unicellular organisms despite being a single organism. Describe why this statement is true.
What three materials could make up the structure/"skeleton" of a sponge? What are these supports called?
Describe the feeding process of a sponge. Make sure to use the following vocabulary in your answer: spongocoel, choanocytes, phagocytosis.
Why is sexual reproduction beneficial for sponges (or other organisms)?
When could asexual reproduction be beneficial?