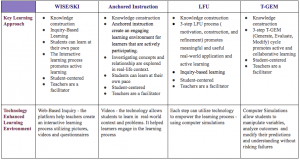 The four frameworks we explored in STEM education could be applied to all curriculum areas to guide educators' effective use of technology-enhanced environments in classrooms. Each framework places the learner in the center of learning and promotes constructivism by construction of knowledge, promotion of critical thinking, analysis of information, communication and collaboration.  These skills are required for students to succeed in the 21st century.
The similarities of the four frameworks are 1. The role of the teacher as a facilitator, course designer, and motivator. TELEs require teachers to make a pedagogical shift in their STEM teaching from transmission of knowledge to collaborative construction of knowledge with the learner. 2. The frameworks promote constructive learning environments. 4 TELEs promote active learning that requires critical thinking, data analysis, investigate concepts and relationships, sharing and collaboration. 3. 4 TELEs use technology to aid the learning processes.
Utilizing technology in STEM education can have a great impact on student learning. However, we must have a clear purpose when utilizing technology in each course. The use of technology is to help students visualize complicated/abstract concepts, use real world data, practice and engage in real world applications through simulations, and even leverage virtual or augmented reality to enhance understanding. Technology provides students with the learning environment that allows them to control their learning process.
References:
Cognition and Technology Group at Vanderbilt. (1993). Anchored instruction and situated cognition revisited. Educational Technology, 33(3), 52-70.
Edelson, D.C. (2001). Learning-for-use: A framework for the design of technology-supported inquiry activities. Journal of Research in Science Teaching,38(3), 355-385.
Khan, Samia (2011).  New pedagogies on teaching science with computer simulations. Journal of Science Education and Technology 20, 3 pp. 215-232.
Williams, M. Linn, M.C. Ammon, P. & Gearhart, M. (2004). Learning to teach inquiry science in a technology-based environment: A case study. Journal of Science Education and Technology, 13(2), 189-206.