Hello Class of 2022,
Allard's one and only women's rugby team – the Honey Badgers – welcomes you to law school!
Joining the Badgers is a sweet deal if you are looking to get involved at Allard and sneak in a little bit of exercise throughout the year.
Prior to 1L, I had never played rugby before, so I distinctly remember meeting the wonderful Patricia Neijens (one of our co-captains for the upcoming year) at Clubs Day and asking how much experience I needed to join. The answer was a resounding "ZERO". I was sold.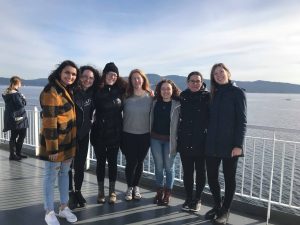 Looking back, playing rugby with the Badgers was one of the highlights of my first-year experience at Allard. It gave me a good excuse to step away from the books for a little while and get out of the law building. I got a chance to visit Victoria and Calgary for our two tournaments, which was a lot of fun for me as I am new to the West Coast. Best of all, joining the Badgers allowed me to connect with upper years and 1Ls outside of my small group, and become a part of a group of incredibly fun and supportive women.
Here's what you can expect for the upcoming season:
Some weekly exercise – about one practice per week, with potential plans to practice more for those interested in improving their skills and fitness
FUN!
Two tournaments, both of which we will be hosting this year – one in the fall and one in the spring
SOCIALS!
Your bones and cognitive functioning intact – we play touch not tackle
TEAM BONDING!
We will be hanging out at a booth during Clubs Day. Stop by to say "hi", get some more information, and sign up if you are interested.
Sincerely,
Christine Gorgi (2L)