DO:
GET YOUR UBC CARD – Your UBCcard is an ID card, a debit card for on and off campus vendors, an access card that will get you into Allard Hall when it's locked, the Allard Law basement showers, and the law-student study rooms in the library, and is the way you get your Compass Card (for public transit).  To get your UBC card, apply online. Lineups get very large at the UBC Carding Office (located in the UBC Bookstore) and if you've applied online you will be able to take advantage of their Express Pick-up service during the peak period in late August and early September. It will also allow you to upload your own digital photo for your picture. Your application for your card can take up to three days to process, so make sure you've given it some time. If you aren't able to apply online, simply drop by UBC Access, located on the lowest level of the UBC Bookstore (enter through the North East corner of the building and walk down the ramps to the South West corner).
GET YOUR COMPASS CARD – Your universal transit pass is a mandatory student fee charged by the Alma Mater Society (AMS), which is the student government that represents all undergraduate, graduate, and professional students at UBC. The pass gives users unlimited access to Translink (Metro Vancouver's regional transit authority) buses, shuttles, Skytrain, Canada Line, and Seabus services.
UBC has recently switched over to the 'Compass Card' system. The Carding Office at the UBC Bookstore, the Main Reception Lobby at Robson Square and the Main Floor at the Student Union Building SUB have been outfitted with vending machines that speed up on-site distribution. Swipe your UBCcard at the machine which will confirm eligibility and then issue your compass card. In order to use your Compass Card throughout the year, it will have to be updated monthly online. Follow these instructions in order to create and account and re-load your card:
Sign into upassbc.translink.ca by selecting your school and signing in using your student ID
Link your compass card by entering the 20-digit number and 3-digit CVN on the back of your compass card
Once your Compass Card is linked, you can request your U-Pass by cliking the 'Request' button on the translink website (you need to do this monthly)
FIND YOUR CLASSROOM NUMBERS – Your individual timetable with professors and classrooms numbers will be available in late August by logging onto the Student Service Centre (SCC). Be sure to print this off and bring it once classes commence to know where you're going.
BRING SNACKS IF YOU ARE A HUNGRY PERSON – We supply you with lunch during Orientation, but sometimes things run out and you don't want to be hangry!
TAKE ADVANTAGE OF ORIENTATION WEEK – this week is an amazing way to meet your classmates and professors and learn what Allard has to offer. Be sure to attend some optional sessions that interest you in addition to the mandatory activities!
TAKE SOME TIME TO EXPLORE UBC – Once classes get going, you're going to be spending a lot of time in Allard, which is good because it's a great building. However, UBC campus has some beautiful spots close to the law school that are worth checking out while the weather is still summery! These include the Rose Garden, which is west of law school, and Wreck Beach, which is just north of the law building.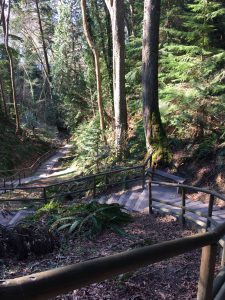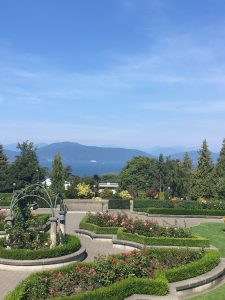 DON'T
BUY YOUR BOOKS TOO EARLY – On your first day of Orientation you will get a chance to meet your small group professors, who will be able to give you a better idea of what books you actually need to buy. Professors generally make the first few weeks of readings available online, so you can take your time to find the best deal on used books. PRO TIP: there will be a 1L used book sale at Allard within the first two weeks of class!
SIT WITH THE SAME PEOPLE EVERYDAY – There are so many cool people at Allard! Use the freedom you have to mingle in Orientation to meet as many of them as possible.
WASTE YOUR CUTEST OUTFIT ON THE FIRST DAY OF ORIENTATION – You will have to change out of it into the Orientation T-Shirt. Save it for the first day of class!