Hi everyone! Although we have already spoken with some of you, we thought we would introduce ourselves and say an official welcome to Allard Law! We just finished our first year of law school ("1L") and are working this summer as your Orientation Coordinators. This means we have the incredible privilege of making your first week of law school fun, informative, and memorable. Here are a few things to help you get to know us!
Kiera Stel
I was raised in different small towns in BC, but my parents now live in the Okanagan, so I call Penticton home! I went to a college program at the end of high school outside of Victoria, BC, then I moved east to New Brunswick where I attended Mount Allison University for my undergrad. I studied history, so I can tell you lots about women's voluntary associations in early twentieth century Canada! During my undergrad I was involved in student government, which encouraged my interest in advocacy, policy-making, and law school. I loved living in a small community in New Brunswick, but decided to return to BC for law school. I have really enjoyed getting to know Vancouver the past year. The city is beautiful! Allard has a great selection of courses and diverse faculty.
I'm still not sure what type of law I want to practise, but I really loved Torts and Charter in first year. I also really enjoyed the first year moot, so I think I want to be a litigator! Next year, I'm excited to take upper year courses like Administrative Law and Evidence. I will be off-campus in the Indigenous Community Legal Clinic during second semester, and I'm very excited  to participate in that experiential learning opportunity.
In my first year, I was involved with the Allard Law Students' Society as an academic representative. I enjoyed getting involved with course development and policy decisions. I was also an Assistant Editor for the UBC Law Review, which helped me learn a lot about legal citations (which are super wild btw!). I also was involved with the Women's Caucus, and I helped organize a bake sale. I really recommend getting involved in the Allard community, it's a great way to meet students from other years and other small groups and give yourself a break from the library.
In my spare time, I love baking, hiking, hanging out at the beach, listening to podcasts and watching vintage sit-coms.
You will soon find that your first few weeks of 1L will be filled with more advice than you've ever been offered in your entire life, so I won't spend too much time on that now. What I can say is that every law student's definition of success is different, so try not to focus on what other people's grades are, how they study, or what extra-curricular activities they're involved in. Be open to new experiences and new ways of thinking, but also remember that not everything works for everybody. Just because you're in law school, it doesn't mean that all of the techniques you had for success in undergrad are no longer useful – all of those skills are important and will help you succeed at Allard!
The best thing you can do in 1L is get involved in something at Allard that you're passionate about. This will help you to surround yourself with a group of people you can have fun with when things are great and turn to when things get tough. Trust me when I say that you are about to be surrounded by some of the most interesting, fun, and smart people you've ever known!
Krystal Bernhardt
I grew up in Regina, Saskatchewan; where my parents still live and I visit often. After High School I moved to Vancouver and attended Simon Fraser University. I studied Political Science and Communication in my undergraduate degree, focusing on International political regimes and the political economy of communication technology (a fancy way of saying I wrote way too many papers on the effect of social media on the economy and elections). This focus on politics and public policy made me realize quickly that I wanted law school at UBC to be my next step. As anyone who has moved to Vancouver will tell you, it's a pretty hard city to leave! I fell in love with BC and can't imagine having picked any school other than Allard!                                                                                               
My favorite classes in first year were Torts and Property! I'm very passionate about environmental issues and would love to practice in a large firm doing environmental regulation compliance/ risk analysis for corporations and/or government actors. However, I am also    looking forward to taking different, more specialized courses and seeing if anything changes my mind. As you will learn there are so many areas of practice that it's hard to know        exactly what your fit will be during or even after first year!
In my first year at Allard I volunteered with Pro-bono Students Canada to research and conduct a court watch project focusing on improving access to justice for women and marginalized populations. Organizations like PBSC and LSLAP are very rewarding ways to get involved and to interact more with the justice system you will learn so much about! I was also a 1L representative for the Allard Law Women's Caucus and I was involved with the Allard Animal Justice Group. Allard has a wide variety of different clubs and organizations, so there is definitely a fit for you no matter what your interests are!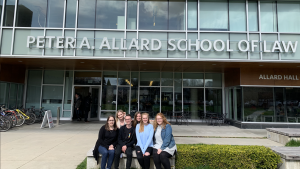 The best advice I have for incoming 1L's during orientation is to enjoy the process! Be yourself, make some friends, learn something new about Vancouver or the law school and don't sweat the small stuff! No one will remember if you fall up the stairs walking into the welcome banquet (Trust me… I speak from experience…). You have worked hard to get here and being accepted to the class of 2022 is an incredible accomplishment, so enjoy it before the work begins!
I look forward to meeting you all and cannot wait to welcome you into this amazing Allard Law community!