Misconception: How molecules are created and how manipulating the atoms creates new and different molecules.
*I teach elementary and would perhaps introduce this to my grade 7-8 students. It may be more applicable to high school. I explored chemistry as it is my weakest link in science so if my terminology is off I apologize to those who are chemistry stars. I just wanted to challenge myself to learn something new.
Goals:
Students will be able to demonstrate basic knowledge of molecules and how they are created. Students will have an opportunity to manipulate molecules to form different compounds.
Students will recognize that molecules must be formed in a certain way with specific bonds.
Materials:
Computers on Wheels (COWS)
https://phet.colorado.edu/en/simulation/molecule-shapes-basics
One station set up with leap motion controller and molecules activity.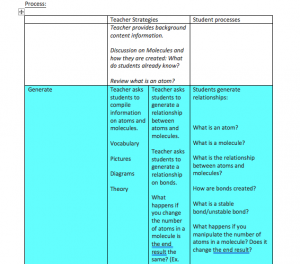 For a final exploration of this module or as a means to extend the learning of those who are interested I would then tie in the Molecular Workbench website. This site, although more advanced, would allow students to investigate molecules in more depth on their own.
http://mw.concord.org/modeler/
The foundation of this lesson is based on Finkelstein et al (2005) article "When learning about the real world is better done virtually: A study of substituting computer simulations for laboratory equipment ". In previous chemistry courses, students have used coloured Styrofoam and connectors to create molecules. As the students can create just about anything they have no idea if the molecules they are creating hold up to the laws of chemistry. A computer simulation would correct any misconceptions the students had. Finklestein et al (2005) reported that "results indicate that properly designed simulations used in the right contexts can be more effective educational tools than real laboratory equipment, both in developing student facility with real equipment and at fostering student conceptual understanding (p. 2)." They further state that in an inquiry-based laboratory, students using the simulations learned more content than did students using real equipment (p. 6)."
Steiff and Wilensky (2003) reported that computer-based curriculum provides an opportunity for inquiry-based chemistry lessons. (I highly suggest this article if you have not read it and teach chemistry).
"The modeling environment, connected chemistry, uses a "glass box" approach (Wilensky, 1999a) that not only enables students to visualize the molecular world but also provides them with virtually unlimited opportunities to interact with and to manipulate a simulated molecular world to gain a deeper under- standing of core chemistry concepts and phenomena (p. 285)."
Simulations allow students to make predictions about a concept and justify their predictions with observable outcomes (p. 286).
Finally, the article by Edens, K., & Potter, E. (2008) although pertaining to mathematics and word problems made me stop and really investigate the way my students use visuals to explain their thinking in every subject.
"Students who used schematic visual representations were more successful problem solvers than those pictorially representing problem elements. The more "schematic-like" the visual representation, the more successful students were at problem solution (p184)."
I realize that it would likely be beneficial for me to introduce to my students the concept of schematic visuals and pictoral visuals. Are my students drawing a picture and not really saying anything or are they using schematics to demonstrate interactions and important concepts? This idea really made me stop and think about how I have taught using visuals.
References:
Edens, K., & Potter, E. (2008). How students "unpack" the structure of a word problem: Graphic representations and problem solving. School Science and Mathematics, 108(5), 184-196
Finkelstein, N.D., Perkins, K.K., Adams, W., Kohl, P., & Podolefsky, N. (2005). When learning about the real world is better done virtually: A study of substituting computer simulations for laboratory equipment. Physics Education Research,1(1), 1-8.
Stieff, M., & Wilensky, U. (2003). Connected chemistry – Incorporating interactive simulations into the chemistry classroom. Journal of Science Education and Technology, 12(3), 285-302.