How has the Technology of Writing Changed the Act of Teaching?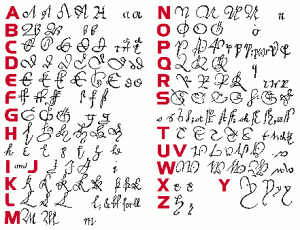 Graphic taken with permission from Rootsweb.com >
In my opinion…
Teaching today, is highly dependent upon technologies such as writing. As members of a literate culture, writing has been the focal point of most all of our learning. From the time we are born we have been encouraged to learn how to write. Whether it's from our earlier years when we learned to write the alphabet, build words and create sentences or during adolescence when we were expected to take notes and write comprehensive papers, writing has always been and will probably always be a focal point in our lives.
It is hard for us to imagine what the written word has done for learning because as literate people, we haven't experienced anything else. We have no other point of reference other than what we have read or heard about. "… to try to construct a logic of writing without investigation in depth of the orality out of which writing is permanently and ineluctably grounded is to limit one's understanding…" (Ong, p. 76) Before we can discuss how writing has changed how we teach, it would seem logical to consider first how teaching was performed prior to the introduction of the written word.
Language existed long before writing which meant that verbal communication was the medium through which all cultural knowledge was passed on to the next generation. As language and culture continued to evolve so did the need for better modes of communication. Early forms of writing date back to the days of pictographs when people scratched drawings on stone walls depicting important events within the lives of their people. It allowed for the transfer of more complex information, ideas and concepts using visual clues. (Kilmon) From pictographs came ideographs or graphic symbols such as those used by the Egyptians (hieroglyphs), the Sumerians (cuneiform) and the Chinese (Chinese characters). Writing is an extension of these and other systems where agreed upon simple shapes were used to create a codified system of standard symbols. These systems continued to evolve throughout ancient history. The Canaanites, the Phoenicians, the Greeks, the Romans, and the Christians either modified existing systems of simply created their own. These systems were not widely understood and were only used and by relatively few people. More often than not, it was the clergy who played an important role in the development and maintenance of these systems during this time. It took the invention of the printing press and the printed word before literacy began to have any mass appeal. (History of Handwriting)
The development of writing shifted the focus of learning orally to learning visually which, in turn, taught us how to interiorize it thus changing the nature of how we learn. "Writing… is not a mere appendage to speech. Because it moves speech from the oral-aural to a new sensory world, that of vision, it transforms speech and thought as well." (Ong, p. 84) Speaking and writing are two different processes. Speech is universal. Everybody acquires it. Writing is not speech written down. Writing requires systematic instruction followed by practice. Not everyone learns to read and write. (Literacy Skills: Speaking vs. Writing) "Clearly, there are fundamental differences between the medium of writing and the medium of speech which constitute 'constraints' on the ways in which they may be used." (Chandler) It has taken a considerable amount of time for writing to superseded speech as the primary tool for learning. The transition, while it may have been awkward for some, has succeeded in altering the way in which we now learn.
Learning in today's literate culture relies more on text and writing and less on the spoken word. We devote more time teaching students to how to read and write and we expect them use these newly acquired literacy skills to think and to reason intellectually. As teachers, we tend to measure success with either a letter grade or a number grade. "If it makes sense to us, that is because our minds have been conditioned by the technology of numbers so that we see the world differently then they did." (Postman, p.13) For teachers, marking or grading is synonymous with learning. Our indoctrination into the literate culture is so complete that it is difficult if not impossible to separate the two. Our dependence on the written word is so complete that it has taken us head on into a new era known as the information age.
The onslaught of the digital age has raised many new issues within education and with existing teaching models in particular. The field of Information technology has grown so rapidly that it's impossible to keep up with the pace. Technical gadgetry continues to astound even the most computer savvy individual, and while these technologies may have heightened our awareness of the digital world we now live in, it may have also dulled our sensitivity to the dominance it has had on our literate world. "… embedded in every tool is an ideological bias, a predisposition to construct the world as one thing rather than another, to value one thing over another, to amplify one sense or skill or attitude more loudly than another." (Postman, P13) Technology, in this case the computer and the internet, which has given us instant access to knowledge in the public domain, has challenged the way we view teaching and learning much the same way that writing did so long, long ago.
In conclusion, while I may not necessarily agree with Ong's statements about the dichotomy of oral and literate cultures, I do believe that there is some merit to his separation of the two cultures. If nothing else, it has helped to explain how previous learning practices may have been altered and current teaching practices will be shaped. I have similar doubts about Postman, about his technopoly taxonomy and his position on computer technologies. However, it does get us to think about how these technologies can alter our conception of learning. It seems apparent that, for the most part, we are in unchartered waters. As teaching practitioners, we have no other choice but to take all of this into consideration as we go about constructing teaching strategies designed to promote practical learning and abstract thinking.
References
Chandler, D. (2000). Biases of the Ear and Eye. Great Divide Theories. Retrieved on September 25, 2009 from: http://www.aber.ac.uk/media/Documents/litoral/litoral1.html
History of Handwriting. The Development of Handwriting and the Modern Alphabet. Retrieved on September 24, 2009 from http://www.vletter.com/handwriting.htm vletter.com
Kilmon, Jack (1997) The Scriptorium: The History of Writing. Retrieved on September 25, 2009 from http://www.historian.net/hxwrite.htm
Ong, Walter J. (2002). Orality and Literacy. London, England: Routledge / Taylor & Francis Group
Postman, N. (1992). Technopoly: The Surrender of Culture to Technology. New York: Vintage Books.
Todd, Joanne (2001) Examples of Letters of the 17th Center Found in Parish Registers. Retrieved on September 17th, 2009 from http://www.rootsweb.ancestry.com/~genepool/oldalpha.htm Ancestry.com
University of Westminster: Learning Skills Site. Literacy Skills: Speaking vs. Writing. Retrieved on September 23, 2009 from: http://www2.wmin.ac.uk/eic/learning-skills/literacy/sp_vs_writ_dif.shtml