Commentary #3 – Associative Information Structures Revisited
"Indeed, printing made textual overload a permanent condition: more books were produced in each succeeding century, and new editions preserved all books that changing cultural norms continued to regard as important… What many have called the "information revolution" ushered in by the computer is only the most recent manifestation of a problem that is now 500 years old." (Bolter, p.83)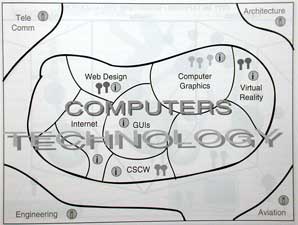 Were Bush and Engelbart's claims that associative information structures are likely to improve human ability to approach and solve complex problems valid?
Referred to as the conceptual creator of 'hypertext', Vannevar Bush was amongst the first to propose the development of a mechanical machine capable of organizing and displaying information in a way that made it possible to 'make sense' of it in the hope of solving some rather complex problems. His article, As We May Think, "…presaged the idea of the Internet and the World Wide Web and was directly influential on the fathers of the hypertext and the Internet as we know it today. Ted Nelson, who coined the term "hypertext" in 1967, describes Bush's article as describing the principles of it." (Malone)
Bush was convinced that many of the technologies developed by scientists during the war had practical applications for everyday use. "The world has arrived at an age of cheap complex devices of great reliability; and something is bound to come of it." (Bush, p. 1) Bush was clearly frustrated with the archaic way in which information was being stored and retrieved. "Professionally our methods of transmitting and reviewing the results of research are generations old and by now are totally inadequate for their purpose… publication has been extended far beyond our present ability to make real use of the record." (Bush, p. 2) He pointed out how improvements in the science of photography led to the development of new technologies like the microfilm and facsimile. He foreshadowed how further modification and extension this technology would eventually lead to things almost beyond imagination "… it would be advantages to be able to snap a camera and look at the picture immediately." as was the case with the Polaroid camera and today's digital cameras. (Bush, p. 3) Most visionary however was Bush's notion of a 'memex' machine.
"The memex and its description have long been hailed as inspiration for the creators of hypertext and even the web." (Malone) As Bush explained it, "Man cannot hope fully to duplicate this mental process [intricacy of trails] artificially… but it should be possible to beat the mind decisively in regard to the permanence and clarity of the items resurrected from storage." (Bush, p.7) Memex would not only have the capability of storing huge amounts of information (albeit on microfilm), as with the human mind which operates by association, the memex machine would likewise have the ability to select by association. The memex "affords an immediate step, however, to associative indexing, the basic idea of which is a provision whereby any item may be caused at will to select immediately and automatically another. This is the essential feature of the memex. The process of tying two items together is the important thing." (Bush, p.8) The tying together (trail) of information is precisely what hypertext does today.
Douglas C. Engelbart was another one of those early computer pioneers interested in the study of HCI (human computer interaction) and the development of hypertext. He was credited with inventing the computer mouse. Like Bush, he was also committed to the development and use of computers and computer networks in an effort to solve some of the world's most perplexing problems.
Engelbart understood the uniqueness behind Bush's memex machine, particularly the notion of duplicating a trail so that information could be shared with others. "Making it easy to establish and follow the associative trails makes practical a new symbol-structuring process whose use can make a significant difference in the concept structuring and b[a]sic methods of work. It is also probable that clever usage of associative-trail manipulation can augment the human's process structuring and executing capa[b]ilities so that he could successfully make use of even more powerful symbol-structure man[i]pulation processes utilizing the Memex capabilities." (Engelbart, Examples and Discussions, Background: Comments Related to Bush's Article) Engelbart tested this principle by developing a sequencing technique and applying it to his computer card coding system.
Engelbart firmly believed that technologies such as computers would someday help mankind by "…improvin[g] the intellectual effectiveness of the individual human being." (Engelbart, Introduction) He used computer card coding/punching techniques to demonstrate how associative linking could worked "There was no convenient way to link these cards together so that the train of thought could later be recalled by extracting the ordered series of notecards. An associative-trail scheme similar to that out lined by Bush for his Memex could conceivably be implemented with these cards to meet this need and add a valuable new symbol-structuring process to the system… A very quick and simple human process thus initiates the automatic extraction of the next item on the associative trail." (Engelbart, Examples and Discussions, Background: Some Possibilities, Associative Linking Possibilities)
Engelbart understood the link between entering data and retrieving results. He realized that more knowledge could be had if we could find some way to link existing knowledge together. He also believed that similar processes could be used to enhance human intellect, something he felt was needed if mankind hoped to keep abreast of the world's problems "… we will have amplified the intelligence of the human by organizing his intellectual capabilities into higher levels of synergistic structuring." (Engelbart, Introduction)
Engelbart's 1968 hypermedia demonstration on human computer interaction showed how the computer could be used to deal with everyday tasks. The information he presented was in a simple hypertext. It demonstrated many different methods of organization and how each was appropriate to the task at hand.
Both Bush and Engelbart firmly believed that properly constructed associative information structures would be useful in helping mankind to solve some of life's most puzzling and complex problems. Bush's memex machine was the precursor to the computer. Engelbart worked with some of the first computers ever built. He knew that these machines were capable of performing complicated mathematical calculations more accurately and far quicker than any human could. Like Bush, he realized that the storing and retrieving of vast amounts of information was the next logical step in the development of computer technologies. It would be our responsibility to ensure that both the information and the technology were used in an appropriate manner and to the benefit, and not the detriment, of the entire human race.
References
Bolter, J.D. (2001). Writing Space: Computers, hypertext, and the remediation of print. Mahway, NJ: Lawrence Erlbaum Associates.
Bush, V. (1945). As we may think. The Atlantic Monthly, 176(1), 101-108. Retrieved from: http://www.theatlantic.com/doc/194507/bush
Engelbart, Douglas C. Augmenting Human Intellect: A Conceptual Framework. Summary Report AFOSR-3223 under Contract AF 49(638)-1024, SRI Project 3578 for Air Force Office of Scientific Research, Stanford Research Institute, Menlo Park, Ca., October 1962.
Malone, Erin. (2002). Foreseeing the Future: The Legacy of Vannevar Bush, Boxes and Arrows, 2007.
Picture retrieved from here.