Commentary #2 – Which came first, culture or technology?
"It is not a question of seeing writing as an external technological force that influences or changes cultural practices; instead writing is always a part of culture.… technologies do not determine the course of culture or society, because they are not separate agents that can act on culture from the outside." (Bolter, p. 19)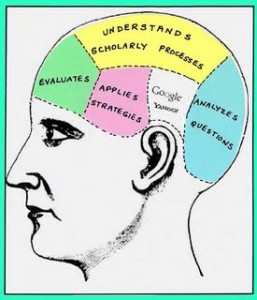 To answer this question, we need to begin with a definition of 'culture' and 'technology' as it relates to knowledge. Culture can be defined as "… the integrated pattern of human knowledge, belief, and behavior that depends upon the capacity for learning and transmitting knowledge to succeeding generations." (Merriam-Webster) Technology is defined as "…the practical application of knowledge especially in a particular area." (Merriam-Webster) The distinction between each is clear, as is the connection between the two. Culture is about acquiring knowledge while technology is about applying knowledge. There has been some debate about culture and technology and whether they are inseparable or not. This commentary will take a look at three of these arguments.
In Writing Space: Computers, Hypertext, and the Remediation of Print, Bolter was very clear as to what he believed, particularly when it came to writing. "The technical and the cultural dimensions of writing are so intimately related that it is not useful to try to separate them…" (Bolter, p. 19) Bolter went to great lengths to explain the connection between technology and culture; how different technologies of writing involved different materials and that these materials were used in different ways and for different reasons. He used ancient writing as an example. Technologies such as papyrus, ink, and the art of book making may have been common to all cultures but what was different were the writing styles and genders of ancient writing and the social and political practices of ancient rhetoric. He argued that modern printing practices followed a similar pattern as does today's technologies. Computers, browsers, word processors are our writing technologies but these technologies don't change cultures per say. If anything, culture has a way of initiating changes in technology.
In his book, Orality and Literacy, Ong argued that the introduction of writing and print literacy's have fundamentally restructured consciousness and culture. In chapter four of his book, Ong discussed the development of script and how this restructures our consciousness. Ong claimed that "…writing (and especially alphabetic writing) is a technology, calling for the use of tools and other equipment… Technologies are not mere exterior aids but also interior transformations of consciousness and never more than when they affect the word." (Ong, p. 80 – 81) Ong suggested that humans are naturally tool-employing beings and that these tools create opportunities for new modes of expression that would not otherwise exist. He used the example of the violinist who internalizes the technology (violin) making the tool seemly second nature, or a part of the self. "The use of a technology can enrich the human psyche, enlarge the human spirit, intensifying its interior life." (Ong, p. 82) In terms of culture and technology, Ong's technological determinism clearly makes it impossible for him to separate the two.
In Understanding Media: The Extensions of Man, Marshall McLuhan argued that technology was nothing more than an extension of man. "The shovel we use for digging holes is a kind of extension of the hands and feet. The spade is similar to the cupped hand, only it is stronger, less likely to break, and capable of removing more dirt per scoop than the hand. A microscope, or telescope is a way of seeing that is an extension of the eye." (Kappelman) When an individual or society makes use of a technology in such a way that it extends the human body or the human mind, it does so at the expense of some other technology which is then either modified or amputated. "The need to be accurate with the new technology of guns made the continued practice of archery obsolete. The extension of a technology like the automobile "amputates" the need for a highly developed walking culture, which in turn causes cities and countries to develop in different ways. The telephone extends the voice, but also amputates the art of penmanship gained through regular correspondence." (Kappelman) McLuhan later developed a tetrad to explain his theory. It consisted of four questions or laws; what does the technology extend, what does it make obsolete, what is retrieved and what does the technology reverse into if it is overextended. As was the case with Ong, McLuhan did not make any clear distinction between technology and culture.
Bolter disagrees with the assessment of technological determinists like McLuhan's "extension of man" claim and Ong's "restructured consciousness". He uses cause and effect to prove his point. He points to the early beginnings of the World Wide Web, and how technology (hardware and software) was used to create it. According to Bolter, culture was responsible for changing the Web into "… a carnival of commercial and self-promotional Wes sites…" (Bolter, p. 20) Culture then demanded changes to the hardware and software to allow for such things as censorship. "Wherever we start in such a chain of cause and effect, we can identify an interaction between technical qualities and social constructions – an interaction so intimate that it is hard to see where the technical ends and the social begins." (Bolter, p. 20) Bolter doesn't adhere to the 'doom and gloom' rhetoric of McLuhan who was "…deeply concerned about man's willful blindness to the downside of technology." (Kappelman) and he in mindful of Ong who said "Once the word is technologized, there is no effective way to criticize what technology has done with it…" (Ong, p. 79) Instead, Bolter believed that "… it is possible to understand print technology is an agent of change without insisting that it works in isolation or in opposition to other aspects of culture." (Bolter, p. 19 – 20)
It seems reasonable to assume that because technology can infringe upon culture and culture can impinge on technology, the two are in a sense inseparable. This may not be a case of one coming before the other as much as both of them coexisting at the same time. Either way, we only need to be cognizant of the fact that both will continue to evolve either as a result of or in spite of the other.
References
Bolter, J.D. (2001). Writing Space: Computers, Hypertext, and the Remediation of Print. Mahway, NJ: Lawrence Erlbaum Associates.
culture. (2009). In Merriam-Webster Online Dictionary. Retrieved October 31, 2009, from http://www.merriam-webster.com/dictionary/culture
Kappelman, Todd (July 2002), Marshall McLuhan:"The Medium is the Message", Probe Ministries. Retrieved from http://www.leaderu.com/orgs/probe/docs/mcluhan.html#text2
Ong, Walter J. (2002). Orality and Literacy (2nd ed.). New York: Routledge.
technology. (2009). In Merriam-Webster Online Dictionary. Retrieved October 31, 2009, from http://www.merriam-webster.com/dictionary/technology
Picture retrevied from http://stephilosophy.blogspot.com/