________________________________________________________________
The Liu Institute for Global Issues, and the
International Development Research Network (IDRN)
PRESENT:
Field Debrief on November 16th
—————————————————————————————
Jordan Levine, Interdisciplinary Studies Graduate Program
The Silence of the Goats
or
Fire, 'nature', culture and cognition on Mount Carmel, northern Israel
November 16, 2011 – 12:30pm-1:30pm – Liu Institute for Global Issues, 3rd Floor Boardroom
Image courtesy of Israel Police — Airborne Unit
For four days in early December 2010, the worst forest fire in the history of the modern Middle East raged across Mount Carmel, in what is today northern Israel. Over 40 people died, and over 15,000 hectares of national parks and nature reserves were burned. Widespread anger threatened to topple the acting government and ethnic tensions between Jewish and Arab citizens flared.
In the following months, UBC PhD student Jordan Levine conducted cognitive anthropological fieldwork on the Carmel region, interviewing local Druze Arab residents—who have since been blamed for the fire—as well as key Israeli Nature and Parks Authority employees. In this presentation, Jordan will talk about his somewhat surprising findings (including voiceless goats), as well as the challenges of doing such work in the Middle East.
—————————————————————————————
Please RSVP if you plan to attend –
attendance is free
RSVP: http://app.fluidsurveys.com/s/field-debrief-levine/
__________________________________________________________
The Liu Institute for Global Issues, and the
International Development Research Network (IDRN)
PRESENT:
Field Debrief on March 13th
—————————————————————————————
Rosemary-Claire Collard, PhD Candidate, Geography, UBC Debriefs:
Putting a finger on the trouble: Multispecies fieldwork on live wildlife capture economies in the Maya Forest
March 13, 2012 – 12:30pm-1:30pm – Liu Institute for Global Issues, 3rd Floor Boardroom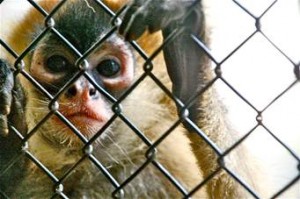 Spider monkey at ARCAS Wildlife Rehabilitation Centre in El Peten, Guatemala
Photo credit: Rosemary Collard
Poaching for the global live wildlife trade is a key threat to biodiversity in the Maya forest region, which straddles southern Mexico, northern Guatemala and northwestern Belize. This field debrief reviews three months of fieldwork in the region, during which time I observed, participated, and conducted interviews in several keys sites, including biosphere reserves, markets, a wildlife rehabilitation centre, and universities. My objective was to begin to understand not only live wildlife trade, "a hard trade to put a finger on," as an interviewee remarked, but also "the trouble", by which I mean, following Haraway, the uneven relationships between humans and other animals. The specific "trouble" with which the research and my larger dissertation project are concerned is the transformation of live, wild animals into commodities, or "undead things" to use Haraway's language again, that can circulate worldwide and be bought, sold and owned. The debrief suggests potential methodological strategies for addressing the key, specific issues and challenges at work in multispecies, multisite fieldwork on largely illegal activities.
—————————————————————————————
Please RSVP if you plan to attend –
attendance is free
RSVP: http://app.fluidsurveys.com/surveys/liuinstitute/field-debrief-rosemary-collard/
________________________________________________________________