Module 7 One to One Technologies
Welcome!
Please begin by looking at this concept map to get a sense of the content we covered in this module.  This initial concept map serves as a Module organizer only.  Check back at the end of this week to see a more interactive concept map that you can use for summative review.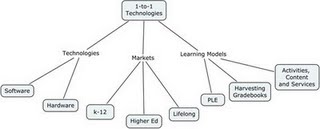 To start off the dialogue, we would like you to consider the following question FIRST and post your replies here, before proceeding to our NING site.
When you hear the term "One to One Technologies" what does it mean to you?
Once you have responded to the above question, please proceed to our Module 7 website:
There are instructions on the main page for navigating through the site.
You should be able to SIGN IN using the same email / password that you have used before, for NING.
There are many opportunities for you to engage in dialogue and discussion.
We will also provide an RSS feed so you can follow the discussion here.
Check back here throughout the week to view any posts that pertain to Module 7.
And feel free to post any comments or questions here as well.
Thank you and we hope you enjoy our presentation.
Kathleen Cavanagh, Cathy Jung, Merv LaBrash, Brian Powell, and Erica Toombs
We have also provided a video showing you how to navigate through our Module 7 NING presentation: