Welcome!
Please begin by looking at this concept map to get a sense of the content we covered in this module.  This initial concept map serves as a Module organizer only.  Check back at the end of this week to see a more interactive concept map that you can use for summative review.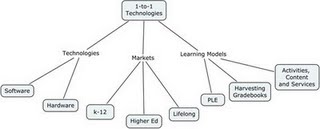 To start off the dialogue, we would like you to consider the following question FIRST and post your replies here, before proceeding to our NING site.
When you hear the term "One to One Technologies" what does it mean to you?
Once you have responded to the above question, please proceed to our Module 7 website:
There are instructions on the main page for navigating through the site.
You should be able to SIGN IN using the same email / password that you have used before, for NING.
There are many opportunities for you to engage in dialogue and discussion.
We will also provide an RSS feed so you can follow the discussion here.
Check back here throughout the week to view any posts that pertain to Module 7.
And feel free to post any comments or questions here as well.
Thank you and we hope you enjoy our presentation.
Kathleen Cavanagh, Cathy Jung, Merv LaBrash, Brian Powell, and Erica Toombs
We have also provided a video showing you how to navigate through our Module 7 NING presentation:
October 25, 2009 30 Comments
Hello Module 4 and Module 5 presenters.  If one of you read this in the immediate future, can you please give me instructions on how to provide the RSS feed from our NING site to this blog page?
Thanks in advance.
Erica Toombs
October 25, 2009 1 Comment
October 6, 2009 1 Comment
Hi everyone!
Group 4's site on "Social Technologies" is now open! You can find it at: http://etec522module4.ning.com/ . You will need to create a Ning account for yourself, if you are not already a member of Ning. Luckily, it's free!
Please participate in the discussions, take a survey or two and explore the links. Most of the sections have RSS buttons, so you can pull in the feeds from the site. Probably the best one to use is the "Latest Activity" feed (http://etec522module4.ning.com/activity/log/list?fmt=rss).
Enjoy being a part of our social learning network!
Anthony, Barbara, Cari, Ed, Erik and Noah
October 4, 2009 1 Comment