Category —
Mod01: Introductions
Hi everyone,
I have been teaching for about 6 years including a recent posting at the Vancouver School Board's online high school where I taught science and math. I live in Vancouver, but have also experienced living and working in Japan.
This is my third ETEC course and I am sure this course will be just as good as the first two. Unfortunately, I was engaged by my life outside of MET and was not able to start earlier. I look forward to not only immersing myself in the course material, but also meeting everyone here.
When I am not online, I love the outdoors and basketball as well as learning languages.
Best regards,
Adam
Hi everyone,
ETEC 522 is my 10th and final course and it feels good to be almost done.  This is officially the last introduction that I will write within the MET program.  Feels like a sad day.   
I am really excited to take this course because I find exploring the business side of education very interesting.  I currently teach Information Communication Technology at Princess Margaret Secondary School in Surrey BC.  Part of my role at the school is that of Technology Facilitator.  One part of my role as technology facilitator is to evaluate which technology enhancements are best for our school.  Knowing how to financially evaluate which technology is best is a key part of this.   
I'm look forward to getting to know all of you through next few months.   
Speak with you soon,
HI:  Please forgive my lateness.  I have just returned from Peru where I was hoping to be able to get more work done.  Unfortunately I had many technical difficulties- but now I am home and can dig in. I am currently on leave from my job as a junior/senior high math teach in a small rural school in Southern Alberta in order to  take my 5th, 6th and 7th MET courses this term.  I have thoroughly enjoyed the journey thus far, and expect it to continue to be an amazing year.
Since graduating from UBC with a B.Ed I have taught English and Science in Nigeria, ESL at Okanagan College, Adult Upgrading at Lethbridge College, established both and adult literacy program and family literacy program in my community, and now have been teaching Math and Language Arts in the public system for 11 years.
I have been married to the same wonderful guy for 31 years ( I was just a baby when I married!)  We have three great kids.  Our last child has just graduated from high school so now we are officially empty nesters, which is bitter sweet.  We love to travel, hike, ski, kayak and camp.
Now that our children are finished school we would like to work overseas.  I am hoping that having my MET will give options.  I am excited about this course and look forward to what ever comes my way!
You'll see me listed as Cindy Leach, but I am now Cindy Plunkett, just haven't gone through all of the red tape to change my name at UBC ;o)  I have a B.A. Hons degree in English from Nipissing University, a B.Ed from the Primary Integrated program at UBC and a Teaching and Training Adults diploma.  I worked for 10 years as a technical trainer and writer in the software industry for a financial planning software company called PlanPlus [www.planplus.com] and Amdocs a Telco and IP billing software company [www.amdocs.com].  
     I now have a 9 month old daughter Hannah who keeps me very busy as well as working full time as a Training Specialist for the last 5 years at the Universtiy Health Network in Toronto, ON, Canada [www.uhn.ca].  UHN is comprised of 3 hospital sites (Toronto General, Toronto Western and Princess Margaret) and has over 10,00 employees.  It is one of the largest teaching hospitals and hospital networks in North America.  I do 1:1 training, small group training, custom workflow training for new residents, blended learning as well as creating eLearning modules.  We are just moving to a new LMS (Sum Total's Total LMS).  The hospital also uses other eLearning tools like Code Baby, Adobe Captivate, Second Life and we are currently working on the development of scenario based online games.  In my evenings I am a karate instructor with Brooklin Wado-Kai [Brooklin Karate], teaching in both the children's and the family classes.
I look forward to working with all of you!
Hi,    My name is Greg Lewis – sorry about the late "introduction/post" but I didn't quite get the instructions until today – my bad!
This is my 7th MET course and from what I have read and seen, it looks interesting and this motivates/energizes me which is great.  I teach at  Ballenas Secondary School in Parksville on Vancouver Island, BC – home of the sandy beach and a holiday destination.  I teach History 12 and am half time in the library – a wonderful assignment that I very much appreciate.
The two "blondies" near myself – man in white shirt with "Vikes" hat – boo UBC! Just kidding 😉 – are Nolan (orange) and Mason(Nemo skimboard) and they keep me moving constantly!
Looking forward to this course and the different focus it offers.  I am on "Stalin's Five Year Plan" and take two to three courses a year so I am getting closer.
Cheers,
Greg
My name is Liz Hood and I am a media specialist in Rock Hill, SC,  USA.  (I believe we are called teacher-librarians in Canada). I currently serve in an IB-MYP school.While I am currently involved in K-12 education, my goal with the MET program is to move to training educators in the best implementation of technology within their specific curriculum area. I have completed 6 MET classes thus far and plan to graduate in May 2010.
Throughout my educational career, I have been fascinated by the dichotomy which exists between the business world and the educational arena. This course will provide business perspectives on education. I am in hopes that the education as an industry will incorporate some of the best practices evidenced in successful business ventures, though I myself struggle with the implementation.
My educational background is quite eclectic. I hold a Bachelor's degree in International Affairs, a Master's degree in Spanish and a Master's degree in Library and Information Science.  I have worked as a K-12 educator for 20 years, evenly split between teaching Spanish and being a media specialist. I hold National Board Certification as a library media specialist, a rigorous process  in the USA, which greatly influenced my teaching.
I fell in love with Canada virtually and have spent the last two summers travelling throughout BC, this past summer with my two boys. All 3 of us loved it. Our goal is to emigrate to the west coast of Canada.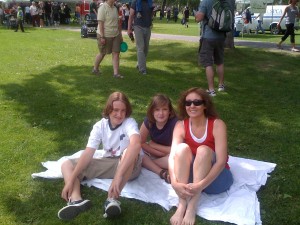 Canada Day 2009 @ Prince George Park
Hi Everyone,
My name is Ammar Al-Attiyat, I live and work in Cairo, Egypt (but my home country is Jordan), with ETEC 512 I'm taking my 3rd and 4th courses this semester.
I work for a technology company offering e-Learning products and services to clients from the Higher Education and Corporate markets. I manage a courseware development team (mainly instructional designers, multimedia specialists, content developers …etc). Also part of my job is to carry all Pre-Sales activities and support our sales team in the Middle East region (verrrrrrrrry busy traveling schedule most of the time 🙁 !!
It's now 21 years since I earned my college degree (BSc, Computer Science), I spent the last 12 years of my career working directly with educational technology products and solutions.
My objective is to complement the practitioner/technologist experience I have with the business/theory behind it, I've never practiced teaching or training (though I've been coaching my subordinates, good or bad coach that's another story 🙂 … coming from workplace environment, I have personal interest in Adult and Informal Learning (Web 2.0/eLearning 2.0  related technologies).
I'm father of two boys (11G & 7G) they attend an Off-Shore BC school here in Egypt.
I look forward to interact and learn from all of you.
Cheers,
Ammar
I have completed 4 courses in the MET program and am now taking 3 more.  I am finding the journey a steep up hill climb, but extremely rewarding.  I am not sure what to expect from this course, but am excited to get into it.
I am currently on leave from  my job as a jr-sr high math teacher in a small rural school in Southern Alberta.  I have no role as a tech advisor in my school, but am very interested in technology integration in education.  Having lived and taught in Africa for several years, I am interested in exploring the possibilities of ed. tech in developing areas.
I am looking forward to working with you all.
Enough reading, I'm taking the plunge. This is my first course in MET, and I'm a little surprised ETEC522 is the first one for me. It should be an invigorating start. I like the online aspect because I'm really into anywhere anytime and lifelong learning, and because I have a long commute.
I've been working in multimedia and distance education for the last fifteen years and currently work at UBC in the Faculty of Medicine helping with their distributed program.  My career has taken a circuituous route through teaching in Northern Quebec, overseas, then doing a MA in Applied Linguistics, to developing language labs and software at UBC, to seven years online course design and support at Athabasca University while taking the odd course now and then on the way.
This course looks like it will give me a more current and corporate perspective on educational technology.  I hope to see an overview of emerging technologies beyond what I've been able to work with in my current position. It's also a great opportunity to see what is going on elsewhere. I look forward to working with all of you.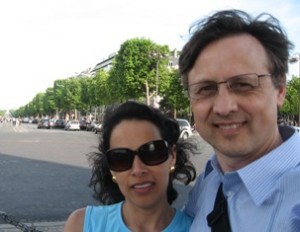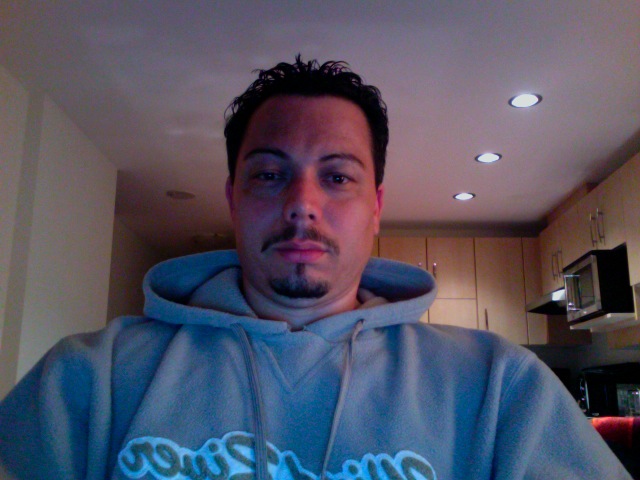 About Me
My name is Barrie Carter.  I live in Burnaby, British Columbia, Canada.  In 1993, I graduated from the University of Victoria with a B. Ed. (secondary curriculum) in English and drama, and, in 2006, I graduated from UBC with a post-graduate diploma in special education (general studies).  Finally, I enjoy hiking, walking, biking, canoeing, camping, listening to jazz, and lifting weights as well as playing chess, tennis, and badminton.
About My Experiences
I work in New Westminster, B.C.  Currently, I teach English 8, social studies 8, ADCAPP 8, French 8, and computers 6/7 at Queensborough Middle School during the day, and English 11 at New Westminster Secondary in the evenings.
I was a full-time resource teacher at Ecole Glenbrook Middle School in New Westminster for five years. I was responsible for a caseload of approximately 15 students, ranging from mild learning disabilities (MLD) to severe learning disabilities (SLD), from Moderate Behaviour to Intensive Behaviour Intervention (for example, ADD, ADHD, ODD, OCD, FASD, FAE), from Noonan's Syndrome to Sotos Syndrome to Down's Syndrome, and from Asperger's Syndrome to severe Autism. As well, I taught  ADCAPP 6 and computers studies 8 throughout the day and sometimes Communications 11 or 12 in the evenings.
Previously, I worked at the Vancouver Learning Centre as a part-time teacher of alternate education. Here, I taught students who (a) sustained brain injuries caused by car crashes, (b) survived strokes returning to upgrade, (c) dropped out of school, (d) had mild to moderate behavioural issues, (e) experienced school expulsions and substance abuse, (f) lived with chronic health issues like diabetes, and (g) lived with ADD, ADHD, ODD, and OCD.  As well, In Masset (on the Haida Gwai'i/Queen Charlotte Islands, B.C.), I taught at George M. Dawson Secondary as a classroom and resource teacher.  Here, I was 4/7 classroom teacher, teaching CAPP 10, Social Studies 10, Essentials of Math 9, and Essentials of Math 10, and 3/7 resource teacher/case manager, teaching students living with Asperger's, FAE, and FASD.  Finally, in West Vancouver, B.C., I taught at Ridgeview Elementary.  Here, I was a learning assistance teacher, teaching students who had difficulties learning subject matter and meeting course expectations. Then, I taught at Westcot Elementary, as an acting resource teacher. Here, I worked with students living with spina bifida, autism, chronic health, and behavioural issues.
About ETEC 522
I enrolled in ETEC 522 because I have no idea how to launch a learning technologies venture, let alone what it all means.  However, I am looking forward to the journey even though I know that it will be a steep learning curve for me.  As well, I am looking forward to the collective knowledge and to the tools associated with learning technologies.
I look forward to learning from you.
Cheers,
Barrie