Hey ETEC 522
My name is Liz Hood and I am a media specialist in Rock Hill, SC,  USA.  (I believe we are called teacher-librarians in Canada). I currently serve in an IB-MYP school.While I am currently involved in K-12 education, my goal with the MET program is to move to training educators in the best implementation of technology within their specific curriculum area. I have completed 6 MET classes thus far and plan to graduate in May 2010.
Throughout my educational career, I have been fascinated by the dichotomy which exists between the business world and the educational arena. This course will provide business perspectives on education. I am in hopes that the education as an industry will incorporate some of the best practices evidenced in successful business ventures, though I myself struggle with the implementation.
My educational background is quite eclectic. I hold a Bachelor's degree in International Affairs, a Master's degree in Spanish and a Master's degree in Library and Information Science.  I have worked as a K-12 educator for 20 years, evenly split between teaching Spanish and being a media specialist. I hold National Board Certification as a library media specialist, a rigorous process  in the USA, which greatly influenced my teaching.
I fell in love with Canada virtually and have spent the last two summers travelling throughout BC, this past summer with my two boys. All 3 of us loved it. Our goal is to emigrate to the west coast of Canada.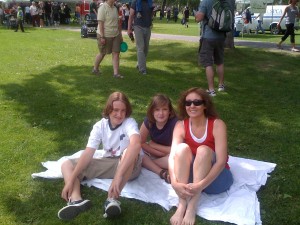 Canada Day 2009 @ Prince George Park