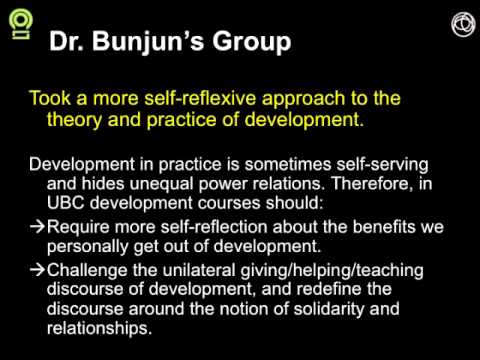 Those who came to our Open Campus Dialogue will remember the thought-provoking discussions we had going during the Breakout Groups.
After the four panel speakers presented their ideas on what development means for their field of study, they were divided in 4 groups with other students, professors, and practitioners.
What follows are their groups' answers to the question:
"How can development education at UBC be improved to better prepare students to work in development research and practice?" 
The video above is a summary.
—
Dr. Sean Smukler's group focused on the importance of making courses more integrated with specific projects and more connected to people living in developing countries.
" We came to a general consensus that a place like UBC should not be trying to produce development workers per se. One becomes a development worker especially by engaging with the people and communities afflicted by poverty.
Therefore, the learning of development should happen outside the classroom in the developing countries, where local people can teach and inform us on local issues. In our classes, we should integrate more 'case-study' approaches and have discussions with development workers of from the field who can provide a contextual understanding of the needs and problems faced. "
—
Dr. Benita Bunjun's group took a more self-reflexive approach to the theory and practice of Development.
" There is a lack of training on processes of racialization in preparation for 'development' work abroad. We should be asking ourselves: Who do we 'do' development for? Who and what do 'they' and 'we' get out of development? What is this urgency we have to send people abroad to do development work?
We need more self-awareness and self-reflection in the teaching of development, because development in practice is sometimes very self-serving and hides unequal power relations. Development can be redefined around the notion of solidarity and relationships, rather than giving/helping/teaching. We need a shift in the discourse. "
—
Dr. Patrick Francois' group took a practical approach to development that looks at specific problems developing countries are facing. They also highlighted the difficulty of bringing disciplinary gaps.
" Development economics engages with focused and bounded problems (ex: inequality or child mortality), and for us discussing the broad concepts of 'development' is not constructive. Similarly, if our interdisciplinary dialogues also focused on specific topics and problems in development we could bring about more constructive discussions and more effective solutions.
In addition, the Open Campus Dialogue today has made us realize the importance of defining more clearly the boundaries between disciplines. We should be taught where a particular discipline stands with respect to others, what questions each disciplinary methodology can answer, and what are the implications of our discipline on how we apply development more broadly.
Therefore, UBC should have interdisciplinary courses in development, in which multiple disciplines are in dialogue in a class where specific themes or problems in development are addressed and solutions are sought. "
—
Dr. Michael Leaf's group addressed what needs to be included in a development studies curriculum.
" From today's discussions we realized the importance of including a thematic cases and an experiential components to development learning.
In teaching development we should emphasize the positionality of the individual, the relations we have to the 'other' and the power and gender relations. To do this we should emphasize in the development curriculum the history of development starting with the pre-colonial encounters, give importance to learning the languages, and teach the culture of the places. "