Category —
Questions & Answers
Hello
I think the idea of looking ahead is important with these assignment dates quickly emerging.
1. I am not able to find an outline for the upcoming assignments 1 and 2 on the blog site.
2. I have the names of the group members but do not see the email addresses for beginning our group collaboration.
Thank you
Mark
I hope my question makes sense here …
I was wondering when is the good time to start working on Assignment # 1 , is it now? after module 2? after module 3? Will the assignment reflect on the material/discussions/acitivites of modules 2 & 3?
I did a quick search for the term "environmental analysis" in our blog but didn't find references within the content of the modules mentioned above. This is why i got confused 🙁
Cheers,
Ammar
I've been reading ahead in prep for our group presentation and I think I came upon an incorrect link in Mod. 4. The text that houses this link is:
"Review a "web 0.0″ article claiming there is no possible business model in web 2.0″
When you click on the link it takes you to CrowdTrust's homepage.
Hi all. Welcome to ETEC 522.
We're about to begin a shared journey over the next 14 weeks. So, let's use this place for introductions and getting started.
I'm David Porter (davidp), a co-instructor for this course. You can reach me by email at –> dporter at bccampus dot ca.
Please add your own introduction. Include any web sites or bio info that you like. Add a photo.
Tell us your interest and/or experience with the theme of this course, and expectations you have for it. We're really looking forward to navigating the venture terrain with you.
As a convention for posts in this module, please use these tags, separated with commas, in your posts:
introductions, M1, your last name.
You'll begin to see our tag cloud in the right-side column for this course begin to grow and segment as we add posts and additional tags.
—
Below is an overview diagram for the course blog that is a quick reference to its features.
If you have any questions, please write a post and use the Questions & Answers category label for your post.
You'll see additional instructions for using the course blog on the left column, under Pages.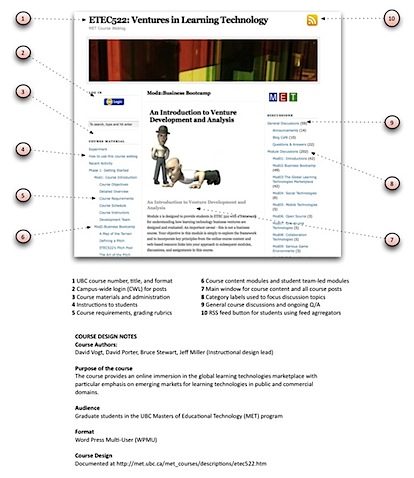 Please jump in.
d.