By Stephanie Hopkins & Michael Haworth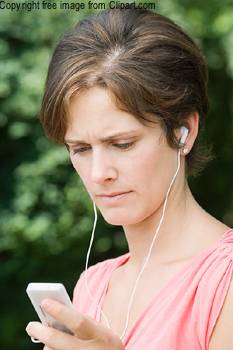 Many years have passed since the dawn of the "golden age of radio", and the birth of educational radio in North America.  Educational radio programming in Canada and the United States brought forth new pedagogical methodology while supporting text-based education.  Named "the new transistor radio" by Jon Udell, (Campbell, 2005, p. 38), and "the next generation of radio" by Steven Jobs (as cited in Baker, Harrison & Yates, 2007, p.31), podcasting now brings to the digital age what educational radio could not: portability, convenience, and choice.  While "audio has traditionally been neglected and underused as a teaching and learning medium" (Chan, Lee & McLoughlin, 2006, p. 111), this is beginning to change as educational institutions focus on the perceived opportunities and benefits that podcasting offers.  In both K-12 and post-secondary sectors, podcasting is making an positive impact in literacy, the sciences, language arts, second language education and more.  Institutions are beginning to recognize the benefits of podcasting, and universities such as Purdue, Duke, and Georgia College & State University are now involving students in podcasting.  George Siemens (2004) argues that technology shapes learning.  It is clear that the potential for learning through podcasting in all levels of education is great; "[i]t's enormously motivating to watch learners learn through dialogue – forming connections with learners and experts beyond the walls of a classroom" (Siemens, 2009, para. 9).
References cited in main paper.
Radio Restated: Podcasting in Education Main Paper
To view a PDF copy of our main paper use this link.
Radio Restated: Podcasting in Education Supplementary Podcast
Length 5:44

Please Note: May take a few moments to fully cache podcast.
Download link for podcast mp3 file if player is not present above.
Radio Restated: Podcasting in Education Podcast Creation and Distribution Diagram

Radio Restated: Podcasting in Education Delicious Links
In addition, we have also created delicious page to share our some of our resources with you.  Please feel free to view or add any of the links at  http://delicious.com/fvdeshoo/podcasting

            The New London group (1996) caught my attention with the words "a multiplicity of discourses" (p.2). These words made me reflect upon how often university discourses target a restricted audience and of how sometimes we cater only for the privileged elite in our academic world. Mabrito and Medley (2008) ask us to reflect on a question that I believe is crucial for university professors "Are educators rising to the challenge of teaching these students? Some evidence suggests that they are not. The most significant problem may be that since most faculty members do not fit the profile of the Net Generation, they most likely do not share the same learning styles as their students." (p.2).
            In my experience most college and university professors tend to be more mature as they have often had other work experience before becoming professors. It is therefore reasonable to assume that many current professors do indeed lack, not only technological skills, but more importantly the knowledge of how to incorporate multiliteracies in to their curriculum and equally important how to evaluate the results from the students.  Prensky (2001 compares these professors to immigrants arriving in a new country and he explains "our Digital Immigrant instructors, who speak an outdated language (that of the pre-digital age), are struggling to teach a population that speaks an entirely new language."(p.2).These words may sound harsh, but this is our reality, especially for those of us in developing countries.
            I believe that before we can adapt our university curriculum to include multiliteracies we must first investigate how wide the gap is. One aspect that I think must be taken into consideration is as Mabrito and Medley (2008) advise us "Learning how to teach the wired student requires a two-pronged effort: to understand how N-Gen student understand and process texts and to create a pedagogy that leverages the learning skills of this type of learner." (p.4). As educators we have a responsibility to analyse, understand and then implement what we consider to be the most beneficial aspects of multiliteracies. Another element that I think is important is as Dobson and Willinsky (2009) comment "we must consider expertise with the medium, content-area expertise, learning styles and preferences," (p.6).Whether we agree or disagree with the particular theories of Gardner, Dunne and Dunne or the other experts in learning styles and preferences, we cannot ignore the fact that not all students learn in the same way.   Neither can we ignore, as the New London group (1996) mention, that "Schools have always played a critical role in determining students' life opportunities. Schools regulate access to orders of discourse – the relationship of discourses in a particular social space – to symbolic capital – symbolic meanings that have currency in access to employment, political power, and cultural recognition." (p.9)
            In order that universities are prepared to use multiliteracies in their curriculum they must first analyse the technological abilities of their professors and students and notwithstanding the needs of the society in which they live. Barnes et al (2007) explain that many students "are frequent users of electronic tools, Net Geners typically lack information literacy skills, and their critical thinking skills are often weak (Oblinger and Oblinger 2005). They may be digital natives, but they do not necessarily understand how their use of technology affects their literacy or habits of learning." (p.2). Bolter (2001) also expresses his concerns about how "traditional views of literature and authorship have been undermined not only by the work of academic theorist but also by the uses to which both popular culture and the academic community are putting new electronic technologies of communication" (p.165). While Postman (1993) warns us that "It is only now beginning to be understood that cultures may also suffer grievously from information glut,  information without meaning, information without control mechanisms." (p.70). These concerns should be addressed by educators and theorists before major curriculum changes are implemented.
            Professors also need to take into account how they will evaluate multilteracy tasks, as I have seen that many professors incorporate new technology and multiliteracies into their programmes, but frequently continue to use the traditional written examinations to grade their students work. Dobson and Willinsky mention that "Hayles (2003), cautions against judging e-literature, which is still in the incunabular phase, against the standard set by print genres developed over half a millennium. A more appropriate course of action would be to develop models of reading and aesthetic response that account for the diversity of contemporary literature, both print and digital" (p.9).
            Tapscott (1998) quoted his colleague Phil Courneyeur as saying "The biggest impediments to learning are social not informational. Teachers need to have the expertise, the motivation, and the time to address the social and psychological roadblocks to learning. (p. 154). Barnes et al (2007) "educators can use technology and multimedia in appropriate ways to incorporate autonomous learning activities while also ensuring that sufficient classroom time is devoted to fostering information literacy and higher-order critical thinking skills." (p.5) Whereas Gee is quoted by Gallo Stampino (2008) as saying that "learning technologies such as games have the potential to be exploited as tools to get us started in different semiotic domains and to acquire literacies which depart from the traditional concept associated with print texts. The recognition of multiliteracies and multiple approaches to understanding may result in a redefinition of how topics are introduced in the classroom but it also generates a challenge for assessment."
            Kalantzis et al (2002) recommend that there are four important domains to consider, "Situated Practice", "Overt instruction", "Critical Framing", "Transformed Practice" and that each of them should have be assessed according to their nature. In other words a teacher could evaluate an activity in "Situated Practice", such as a film clip, by means of a rubric grading the degree of decoding or comprehension a student showed. Whereas, a "Critical Framing" activity would be graded on the student's ability to make links to other materials or to make predictions based on the material seen. There is no one way to assess or grade multiliteracies and it is this diversity of grading, which although it can be so rewarding, may well be the cause of future dissention at a university level. University professors, on the whole, come from a long tradition of standardized assessments and I believe some of them will resist the change into more flexible grading schemes.    
References.
Barnes, K. Marateo, R. and Ferris, S. (2007). Teaching and learning with the net generation. Innovate 3 (4). Retrieved the 20th of November, 2009 from:  http://www.innovateonline.info/index.php?view=article&id=382
Bolter, J. (2001). Writing space: Computers, hypertext, and the remediation of print. Lawrence Erlbaum Associates. Mahwah, N.J. USA.
Dobson T, Willinsky J. Digital Literacy. In: Olson D, Torrance N, editors. Cambridge Handbook on Literacy. Cambridge, UK: Cambridge University Press; 2009. Retrieved the 13th of November, 2009 from:  http://pkp.sfu.ca/files/Digital%20Literacy.pdf
Gallo Stampino, V. (2008). Multiples Approaches to Understanding. Retrieved the          20th of November, 2009 from:   http://design.test.olt.ubc.ca/Multiples_Approaches_to_Understanding
Kalantzis M. Cope,B. and Fehring, H. (2002) PEN: Multiliteracies: Teaching and Learning in the New Communications Environment.
http://www.eric.ed.gov/ERICDocs/data/ericdocs2sql/content_storage_01/0000019b/80/1a/14/19.pdf
Postman, N. (1993). Technopoly: the surrender of culture to technology. First Vintage Books. New York, USA.
Prensky, M. (2001 ) Digital Natives, Digital Immigrants. From On the Horizon. MCB University Press, Vol. 9 No. 5 Retrieved the 12th of November, 2009 from: http://www.marcprensky.com/writing/Prensky%20%20Digital%20Natives,%20Digital%20Immigrants%20-%20Part1.pdf
Mabrito, M. and Medley, R. Why Professor Johnny Can't Read:
            Understanding the Net Generation's Texts. Retrieved the 11th of November, 2009 from: http://www.innovateonline.info/pdf/vol4_issue6/Why_Professor_Johnny_Can't_Read-__Understanding_the_Net_Generation's_Texts.pdf
Tapscott, D. (1998). Growing Up Digital. The Rise of the Net Generation. McGraw-Hill. New York, USA
Given that we are adding our favourite web 2.0/social media experiences, I thought that I'd provide a very brief history of social media:
Social Technologies have become a staple part of today's digital world. Millions of people make social connections online through various websites like Facebook, Twitter and Flickr to name just a few. The popularity of such sites have seen incredible growth over the last few years, but when did this trend start? What follows is a brief history of social networking on the Internet.
1980's :
Compuserve, which was around since the 1970s, evolved into a network that would allow members to share files. Discussion forums began to emerge as a result.
Another network called BBS (Bulletin Board System) allowed users to communicate using a modem over telephone lines. Long distance charges would apply so many Bulletin Boards were strictly local.
1990's:
AOL (America Online) was in its heyday with member-created communities and searchable profiles.
Classmates.com became very popular as people tried to use the Internet to reconnect.
2000's:
Friendster is launched. This site allowed members so see the connections that they knew they had and discover connections that they did not realize they had in common with others.
LinkedIn, a networking resource aimed mostly at professionals and businesspeople, is created.
MySpace becomes a huge hit mostly in the US. Its key demographic is the under 30 crowd.
Facebook quickly grows into the world's largest online social networking site.
Twitter is launched and catches on quickly for those who can't seem to get enough minutiae. Where and what social networks will evolve into is anybody's guess.
There is little doubt that the written word has undergone significant changes since its inception hundreds of years ago. The continual shift of design and words promotes both cultural changes and is an indication that nothing is ever stagnant or unchanging. Jay Bolter in his book "Writing Space" indicates that "print today is continuing to remake itself in order to maintain its claim to represent reality as effectively as digital and other visual media" (Bolter, 2001, p. 47). According to Bolter, print has undergone a transformation of reverse ekphrasis in which the visual image now embodies words. Bolter also contents that print has undergone a visual renovation that appeals to all the senses in order to represent a more "real" application of reality. This notion of competition or restructuring of print establishes a situation to further examine Bolter's contention that print has undergone both reverse ekphrasis, evident in visual media and Sparkline, and a sensual revolution, as indicated by online role playing games and technologically advanced learning toys. The "modernization" of print implies an attempt to stay current in contemporary, technical times.
The Greek term Ekphrasis has been used to describe the act of envisioning a description as if it were physically present. Bolter challenges that print has reformulated itself in a type of reverse ekphrasis in which the image portrays or explains words (Bolter, 2001). The origins can be seen in Rebus forms of communication, where pictures (or symbols) are utilized for their sounds to represent new words. Rebus systems were common in Egyptian writings and used as a tool for children to learn reading in the 19th century. Rebus systems indicate that the visual representation of words has been present throughout history. Perhaps Bolter suggests that print has reverted back to picture depiction of words due to the need for a more accurate symbol of reality. This is evident in the USA Today "Snapshots" where pictures are the data. The idea of reality as symbols is corroborated by Murray Krieger, who explains change stems from our "desire for the natural sign, the desire, that is, to have the world captured in the word" (Krieger, 1992, 11, from Bolter, 2001, p. 57).
Modern or reverse Ekphrasis is best indicated by the transfer of the novel to film. The adaptation of the novel into motion picture further stresses the shift from the written word to the visual representation of words. The novel, once a bound text, can now been seen and heard as a movie. The movie itself could be defined as a form of Ekphrasis as it is taking words of a novel and explained through a series of images. Bolter extends this argument through the example of the reproduced book. Reverse Ekphrasis is quite evident through the reproduction of a novel cover after its movie form has been produced (Bolter, 2001). The image of the movie on the novel cover serves as a symbol for the novel itself, as Bolter suggests, "the book must now do its best to recreate in words the experience of seeing the film" (Bolter, 2001, p 57). One can not help but think of the tween series "Twilight" in which the film's main character, played by Robert Pattinson, graces the covers of the entire series. As if this were not enough, the merchandise created from the film (and somewhat due to the books themselves) further proves the shift to visual representation of words. The Twilight series has buttons, magnets, posters, and even T-shirts in which a fan can declare there affiliation for either of the two male characters vying for the narrator's affections. These shirts simply say "Team Edward" or "Team Jacob" Curiously; these words become visual symbols for the novel/film and convey implicit knowledge that aids the experience of authenticity.
Edward Tufte has designed a method of making the experience of the written word more authentic. Tufte created a data system which he aptly name Sparkline. Sparkline essentially is for "small, high resolution graphics embedded in a context of words, numbers, images" and is "data-intense, design-simple, word-sized graphics" (Edward Tufte 2006). Tufte states that traditional charts are too general and isolated from the text, whereas Sparkline graphics are succinct and located in the text where they are discussed. What Tufte has created is a visual of information acts as a "kind of "word" that conveys rich information without breaking the flow of a sentence or paragraph made of other "words" both visual and conventional" (Wikipedia, Edward Tufte). Sparkline promotes the notion of reverse ekphrasis as the data is presented as an image and represents words in a visual format. Reverse Ekphrasis is evident in our culture, yet the "remediation" of print also includes, according to Bolter, visual changes that heighten our other senses, making print more lifelike.
The sensual transition of the written word is evident as our culture shifts to a more technical medium. In today's culture art must imitate life or it must be as authentic to real life as possible. The focus now rests of the need for authentic entertainment and this is usually found in a visual format. In order for the written word to compete, it needs to be restructured in a format that visually appeals and provides an authentic experience. Examples of this transition are clearly exposed in the fantasy role playing games such as Dungeons and Dragons and World of Warcraft. Dungeons and Dragons is a fantasy role playing game created in 1974 in which each player is a character moving through another world focusing on challenges and tasks which must be accomplished. Dungeons and Dragons is a visual form of the written word. The new versions of the game are online and have books with more pictures and diagrams which are "far more pleasing to the eye" (Miller, 2008, para. 11). The visual component of the books, along with the role play which engages emotions, sound, and tactile functions, serves as a precursor to the transition of the written word into a sensual or physical format. The next generation of the physical written word is World of Warcraft. World of Warcraft, or WoW, is a multiplayer online role playing game where a story unfolds through quest text and scripted non-player characters. WoW truly is a sensual experience of the written story. It incorporates the visual component with the virtual worlds the characters must engage in, it provides the player with the feeling of "being there" as they are the character that navigates through the world. It also includes sound and even touch as the player must use the keyboard, mouse etc. to continue the reading. The player must envision and engage in the fantasy world. The game provides the player the ability to control some of the text, which offers the player a truly authentic written experience. Another example of this, as suggested by Bolter, is MOO gamers who navigate in a fantasy world where they write (similar to Ekphrasis) and envision those words as a reality world online. WoW is a more complex version of a MOO with complex storylines. WoW truly is a modern version of the written word, where the reader sees the written word in a sensual context and is intricate in the storyline. The sensual shift does not relate only to the role playing genre, but can be seen in other forms in our culture.
One such form is found in the educational toys created by LeapFrog, where the slogan itself, "See the learning" denotes a visual context. LeapFrog has been using technological advancements to enhance educational toys for young children. The LeapFrog website shows the requirement for knowledge to be sensual and states:
"See it. Hear it. Say it. Touch it. Learn it.
At LeapFrog, we surround the child with multiple ways of learning by tapping into their senses. Interactive learning experiences are further reinforced with immediate, and positive, corrective feedback. This multi-sensory approach has been consistently proven effective by third-party efficacy studies and research." (LeapFrog, 2009, para. 5).
Case in point, LeapFrog's book system: the "Tag Reading System". This system is a further sign of the shift towards the written word as a sensual experience. The Tag reading system, uses a reader pen that the child can highlight over a word to sound it out, to make characters sing, or to make characters talk. The Tag reading system provides reading as a sensual experience. The website indicates this:
"The Tag Reading System engages children's senses to make reading a rich, fulfilling experience. With each touch of the Tag reader to the book's pages, words talk, characters sing and stories live out loud. With over 20 books and games including favourite TV, movie and classic tales, each Tag book allows children to learn at their own pace, building confidence" (LeapFrog, 2009, para. 1).
What is interesting is that the LeapFrog product advertises the need for a multi-layered experience when reading. In addition, the fact that the books contain information from "favourite TV and Movies" is another affirmation of the written word competing with its visual counterpart. LeapFrog products juxtapose the new era of the written word, as it proves that reading and writing are increasingly more visual and call for a sensual experience where legitimacy can be replicated.
Bolter's "breakout of the visual" indicates a new form of the written word. The written word, like our culture, is not stagnant and must change and adapt to new circumstances and demands of society. This change is further ingrained due to the increase in multimedia and technological advancements. The adaptations undergone by the written word indicate our society's desire for a more authentic experience, one where simplicity is combined with symbols and all of our senses.
References
Bolter, Jay David (2001). Writing Space Computers, Hypertext, and the Remediation of Print. Mahwah, NJ: Lawrence Erlbaum Associates.
Krieger, M. (1992). Ekphrasis: The illusion of the Natural Sign. Baltimore: John Hopkins University Press. Quote Retrieved from Bolter, Jay David (2001). Writing Space Computers, Hypertext, and the Remediation of Print. Mahwah, NJ: Lawrence Erlbaum Associates.
LeapFrog. (2009). About Us. Retrieved from
http://www.leapfrog.ca/en_ca/home/about_us.html
LeapFrog. (2009). Tag Reading System. Retrieved from http://www.leapfrog.ca/en_ca/families/tag/tag_system/tag_reading_system.html
Miller, John J. (2008, July 1). Dungeons and Dragons in a Digital World. The Wall Street Journal Retrieved from
http://online.wsj.com/public/article/SB121487030020517745.html?mod=2_1578_middlebox
Tufte, Edward (2006). Beautiful Evidence. Graphics Press
Wikipedia. Edward Tufte. Retrieved on 27 October 2009. Retrieved from http://en.wikipedia.org/wiki/Edward_Tufte
Wikipedia. Rebus. Retrieved on 27 October 2009. Retrieved from http://en.wikipedia.org/wiki/Rebus
Wikipedia. World of Warcraft. Retrieved on 27 October 2009. Retrieved from http://en.wikipedia.org/wiki/World_of_Warcraft
The Muppet ReMix (Same as embedded video posted below)
This might date me a bit, but nothing was better than sitting down and watching The Muppet Show. Those two critics in the balcony, Statler and Waldorf,  put Simon Cowell to shame.
For some brilliant commentary on Internet culture by Statler and Waldorf, view https://www.youtube.com/watch?v=zSDj7bjAv2s , and https://www.youtube.com/watch?v=7pCW0bd-gH0.
Enjoy the ReMix below
.
[Posted November 23, 2009 to YouTube by The Muppet's Studio ]
I thought it was great how Kermit tried video conferencing to discuss the upcoming show with the cast and his stage manager Scooter. What a way to relate to parents who are newish to technology yet entertain the kids at the same time!