A few examples of my favourite social media tools.  Word clouds are very popular and it seems most people prefer to use wordle.  I've been using Taxedo, found at http://www.tagxedo.com
Here's an example of our "digital footprint".  This was created using the url for this very weblog!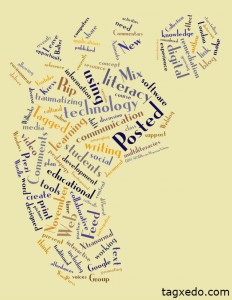 Prezi, the zooming presentation editor is a favourite too.  As the athletic director of my school, I just took the opportunity to combine the creating of a Prezi with the need to create a presentation for my coaches meetings.  Unfortunately I was unable to embed my finish product, but here is a link to the result!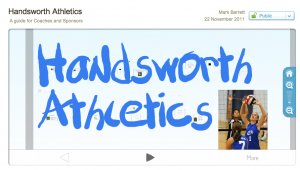 http://prezi.com/jclz8z3bry0w/copy-of-handsworth-athletics/
 The popularity of Animoto is remarkable.  And what's not to love?  Educators can receive free accounts for their students, its insanely easy to use and produces really polished finished products.  Here' s a copy of an Animoto I created as the teacher chaperone of our school exchange to Japan.  You can see the kids had a lot of fun!  We go every April.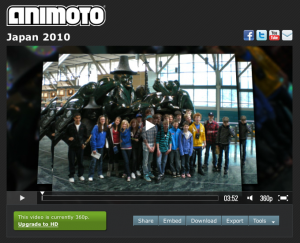 http://animoto.com/play/lwOMt1CwPimZ7nu1XadFGg
And finally, here's another collaborative social media tool I enjoy that I have not seen mentioned as frequently.  Its called 'creately', found at http://creately.com/  It's great for making collaborative diagrams as a class, or with colleagues