Using the CUBE: Froguts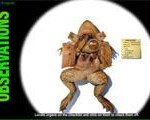 Froguts is an interactive simulation program offering 3D virtual dissections and biology lessons.
See the demo.
Market Focus
This program would be beneficial for middle schools, high schools and higher education. It could be used in schools, for home schooled students, or any student wanting an additional, alternative method of learning.
Types of Offerings
The main offering of this program is content. Lessons are system based and integrate anatomy, physiology and ecology through interactive simulations. The online dissections can eliminate the need for actual animal dissections.
Who is the buyer?
The buyer could include School Districts, Principals, Technology Coordinators, Curriculum Coordinators, teachers, students, and/or parents. In CUBE terms: "learning bought centrally", "learning bought for learner", or "learner buys personally".
Global Markets
The software requires a computer (PC or Mac) and requires the internet for the inital activation. As far as I could see it is only offered in English so the market for this product are wired anglophone countries such as Canada, USA, Australia, UK, Ireland, and NZ.
Devlopment of the Market
The market imports content and infrastructure and supports export oriented learning technologies and substitution of imports.
Learning Technology Competing with Other Forms of Learning
This program works with a well-developed learning system but also can be viewed as a substitute to dissections for reasons of costs, animal rights, and the environment.