Students from Srishti School of Art, Design and Technology in Bangalore, working with Raghavendra Rao K.V., have designed and produced multi-media sets/scenography for the plays, visualizing the complex environment for the plays and the history that they express. They also developed individual and group artistic responses to the history of the Komagata Maru and the plays about them, culminating in an exhibition on December 10, 2013 at Rococo Gallery in downtown Bangalore, where the stage backdrops were also displayed. Srishti student Sohil Bhatia performed an intimate and emotional response to the history of the Komagata Maru at the gallery event. 
Students read all three plays; watched Ali Kazimi's thoughtful and compelling film on the incident, "Continous Journey"; interviewed playwright Sukhwant Hundal about his contribution to one of the plays and about the incident; investigated the pictoral achive of the incident; and engaged in conversation with UBC Professor Anne Murphy about the history of the incident and the three plays written about it.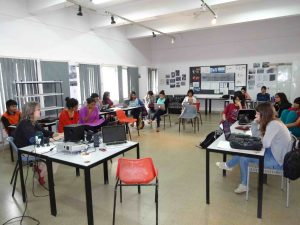 See works in progress and the exhibition of final works.