Women Scholars in Punjabi Studies
This occasional series highlights women scholars in Punjabi Studies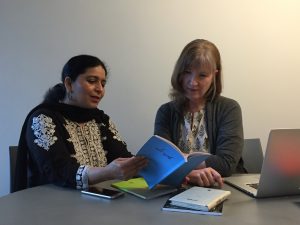 Dr. Asma Qadri, The University of Punjab, Lahore with Dr. Anne Murphy (UBC).
About Dr. Asma Qadri
Dr. Asma Qadri was born and raised in Pakistan and grew up speaking Punjabi with her friends and family members. Her mother was a local school teacher and her father was in the army. She grew up hearing her grandmother singing hymns with sur (swara): a specific style of music that is meant to soothe the ears of the listener.
When asked about her academic journey, she described the great support she received from her father, for her studies. She began college with the intention of studying medicine, and ultimately becoming a physician. Unfortunately, her studies were interrupted part way through her degree. Upon returning to university, she decided to pursue a Bachelor in Arts (BA) and went on to complete her Masters in Arts (MA), both with a focus on Punjabi. After completing her studies in 1998, she began a position as a Punjabi lecturer at a local college and in 2002, began lecturing at the University of the Punjab in Lahore.
Dr. Qadri has published eleven books on Punjabi literature and literary history. She travels widely, delivering lectures on Punjabi classical poetry, the Sikh scripture, the Guru Granth Sahib, and on Punjabi language writer and critic, Najm Hosain Syed. She has given numerous talks in the USA, UK, and Canada in universities, community institutions, and private functions.
Can you tell us a bit about the Punjabi Language Program at the University of the Punjab, Lahore?
Punjabi language is taught in the Faculty of Oriental Learning, Department of Punjabi, at the University of the Punjab in Lahore. There are three different streams of Punjabi studies, with around 50 students in the MA program, 20 students in the MPhil program, and 10 seats for students hoping to pursue a Phd.
What is the importance and impact of Punjabi Classical Literature?
My PhD focuses on classical forms of poetry within the Punjabi language, and delved into how themes such as equality, morality, and traditions are explored within poetry. Through my research,  I have analyzed over 60 forms of poetry, including over 20 excerpts from the Sikh spiritual text, the Sri Guru Granth Sahib. More recently, the work of Najm Hosain Syed have strengthened my understanding of the connection between poetry and music. In my view, classical literature is the foundation of Punjabi literature and, at the same time, this poetry dating back to the 12th century by poets such as Sheikh Farid is still relevant to this day.
What is the State of Punjabi in Pakistan?
In my experience, people residing in bigger cities mainly speak Urdu and hesitate to learn and speak Punjabi, as it is associated with being from a lower class. Rural areas within Pakistan are still home to a large Punjabi-speaking population, but many see Urdu and English as the main avenues to prestigious job opportunities and higher education.
The focus of these interviews is on female scholars – what are your experiences studying and teaching Punjabi as a woman?
For many females in Pakistan, accessing higher education is much more difficult than it is for their male counterparts. I was the first woman in my family to pursue higher education to this extent and my moving away to study was often looked down upon. There is immense societal pressure not to leave one's family, as a woman. Within academia, I have also experienced gender-based discrimination throughout my studies and career, and I have seen that there is and has been a clear preference for male scholars.
Throughout my career, I have always enjoyed the support of my family, I was encouraged to study. I was one of five children, three daughters and two sons. There was never any difference made between us. In fact, they focused on us daughters, encouraging us, and helping us to develop confidence. My father always stood by me. He knew what I was facing in society, and he always stood by me. He told me to do my work, and not let anything distract me from it.
What is the importance of studying Punjabi?
I am  a firm believer in the idea that we must study Punjabi in order to preserve the language and its rich history. Students who study Punjabi are provided with an excellent opportunity to analyze and understand Punjabi texts, teaching valuable lessons that are still applicable today. As someone from a Punjabi background, I feel that reconnecting with one's mother tongue through learning Punjabi is invaluable. For students across the globe, studying Punjabi is an amazing way to learn more about the rich culture of this community.
August 2020