Art and Memory at the Border: Historical practice and the creative arts
2017 was the 70th anniversary of the division of the once united cultural and linguistic region of Punjab into two parts along religious lines, one in India and one in Pakistan, amidst large-scale violence and mass migration. The "Art and Memory at the Border" project addresses this troubled history as it relates to the present lived experience of the past in both Punjabs (that is, the Indian Punjab and the Pakistani Punjab) and the Punjabi Canadian Diaspora through a creative arts and cultural history project that seeks to excavate, document, analyse, and represent the once-shared past across the border and the shared histories that connect people now divided by a border. The project draws on and extends the prior scholarly research of Dr. Anne Murphy, and her ongoing interests in the integration of the arts with cultural historical work. Over the past several years this work included her participation in a project entitled "Creative Interruptions" (2016-9) and an extension of that activity in 2019-2021 that will culminate in an exhibition at The Reach Gallery Museum in Abbotsford in summer 2021 (for more, see below).
An exhibition of documentation of these projects was on view on the first floor of I.K. Barber Learning Centre at UBC in September 2019.
"Creative Interruptions,"a multi-arts project in Preetnagar, Punjab, India and in London, UK (2016-9) was funded by an Arts and Humanities Research Council research grant (UK) that was held jointly at five UK universities in partnership with a range of organisations. The overall project was located in the UK, Palestine and India, but the project strand led by Churnjeet Mahn (University of Strathclyde, Glasgow, Scotland), with Dr. Murphy as team member, worked with local organizations in Punjab. The project sought to explore how research and practice can be enhanced through collaboration, and how the creative arts can enhance and influence heritage management. The main location of the project was Preet Nagar, a site founded in the 1930s by a modern Punjabi language author Gurbakhsh Singh as an intentional arts community; in this, it intersects with Dr. Murphy's current monograph project on modern Punjabi literature. A set of artist's residencies took place in Fall 2018 in Preet Nagar that resulted in an exhibition, the "Preet Nagar Mela," in February 2019 at Preet Nagar and June 2019 at the British Film Institute in London, UK.
From the exhibition at the British Film Institute, London, in June 2019: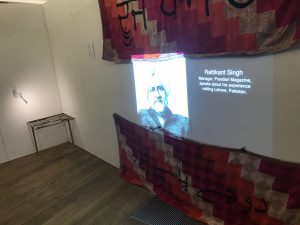 In 2019-20, the "Creative Interruptions" project was extended to address both sides of the-Pakistan border in the two Punjabs in India and Pakistan. Funded by a Canada Council for the Arts grant to the South Asian Canadian Histories Association, of which Dr. Murphy was a co-Founder, this extension project brought together three Canadian and a group of Pakistani artists for artists' residencies in Lahore, Pakistan at partner organization, Beaconhouse National University, in December 2019.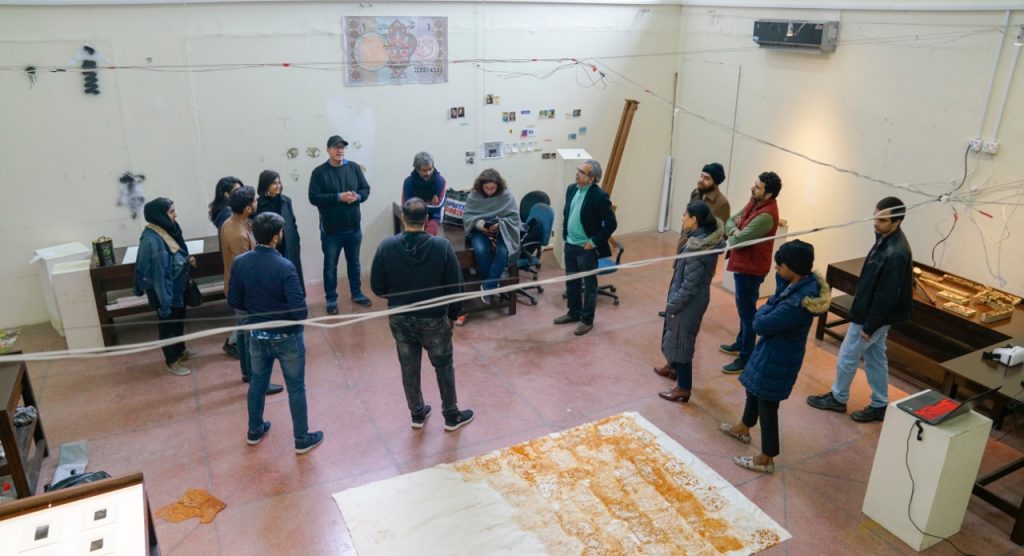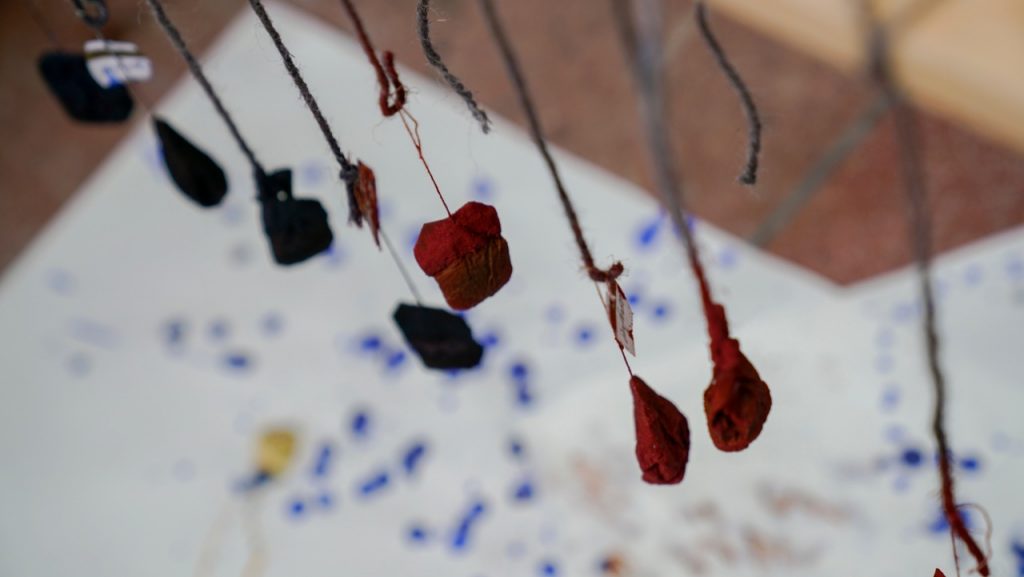 Above: artists in conversation at Beaconhouse National University; Below: Experimentation/Work in Progress, Jason Baerg
Work produced in the Lahore residency will be brought together with the work created in Creative Interruptions, Indian Punjab for an exhibition in summer 2021 (originally planned for summer 2020 but delayed due to Covid-19) at The Reach Gallery Museum in Abbotsford, BC, Canada.
Return here for updates in early 2021.