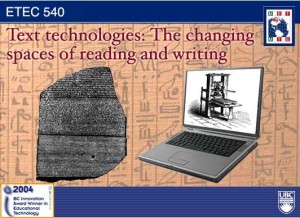 The ETEC540 Community Weblog is a collaborative authoring space for students in UBC's Masters of Educational Technology course: Text Technology: The Changing Spaces of Reading and Writing.
Within this space you'll post, among other things, the formal writing you do for the course (i.e., responses to readings and, depending on the assessment option you choose, your final project). You are encouraged, but not required, to experiment with different genres in this space; in other words, although all writing should be polished and should illustrate a knowledge of the readings and issues that are central to this course, not all writing need be in conventional academic (i.e., analytical essay) form. In the past, for example, students have elected to write creative hypertexts for the final project, or to complete video documentaries and even weblog-based short stories! Finally, you will be encouraged to examine the writings of your classmates and to make connections, where appropriate, between their ideas and your own.
Our hope is that the ETEC 540 Community Weblog will become in certain respects a constructivist learning environment; that is to say, we'd like it to become a place in which you play an active role in structuring your own learning. In the course of the next few weeks, all members of this class will post to this space, thereby facilitating the development of a body of knowledge around the course topics. Your own work will be added to knowledge base developed by ETEC540 students going back to 2002!