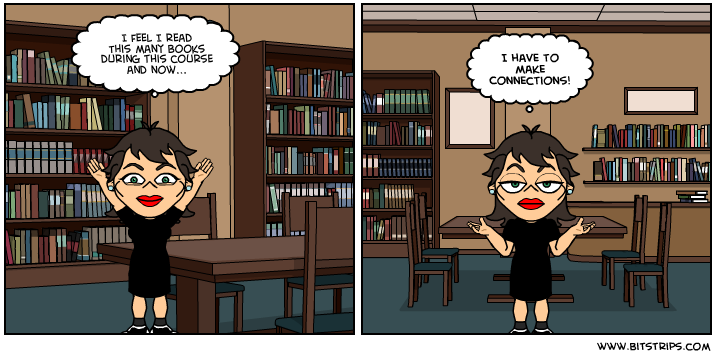 What a journey! I decided to make my connections with the use of visuals (cartoons created on Bitstrips) and text.
When looking through the names of people posting to the ETEC 540 Weblog, I saw several familiar names of people that have been in a few of my courses before and many new ones.  This being my ninth course, posting an introduction was a familiar process, but there is always a twist.  For this course we were to write what literacy meant to us.  I went down the path that today people need multi-literacies as they have to navigate through many different types of "reading spaces". At the end of this course, I still believe this.
Looking through some of my cohorts' assignments, there was a range of platforms that were used to present their projects, all which incorporated different types of multimedia and Web 2.0 tools.   As many have stated in their own connections to this course, I couldn't help but wish that our actual course material better utilized visual representations and multimedia to further our understanding of the material.
Until I read Walter Ong's Orality and Literacy I had never thought of a world without writing or that writing was a technology.  It is so ingrained in our society, that it is hard to realize that it is artificial, that the letters you are reading right now are symbols that have a coded meaning.  We also now have to add in symbols associated with electronic technology such as HTML coding or navigation symbols, never mind the different types of multimedia that can be used.  This again supports the idea that people need to have multi-literacies to find their way through the many different types of platforms and interfaces.
It took the written word an extensive amount of time to become commonplace and to have an efficient way of being produced.  In saying that, the book has been quite unchanged for a very long time.  We are now seeing changes to this medium, as more and more digital text is being produced.  As Jay David Bolter stated, with the rise of each new technology, there will be remediation with the old technology that it is replacing.  Right now, this is occurring between printed text and digital writing, but I feel the book will not be completely replaced by its electronic counterpart in the near future.  I still think that we are finding our way through this new, electronic landscape and have not yet come to the point where we are using technology to its fullest potential.  Electronic devices can allow other forms of media to be used to express ideas and I think we are just at the tip of discovering how that will look.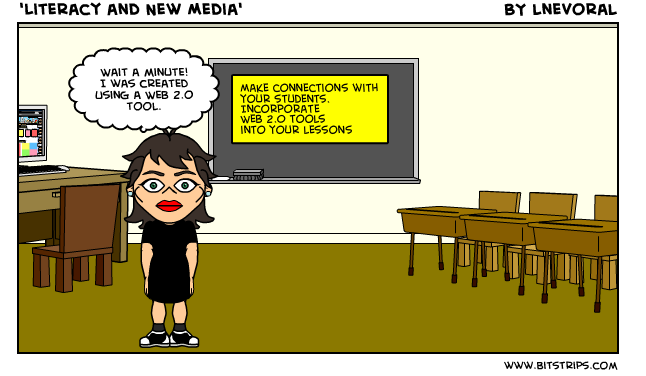 When viewing my cohorts assignments, I found I was drawn to the ones that were easy to navigate, made use of videos, included pictures, and had some text, but not too much.  I then realized that I must do this for my students and this can be done by utilizing different Web 2.0 tools (such as in our Rip.Mix. Feed activity).  I can make interactive, authentic assignments or allow my students to hand-in products that all don't look the same, but still meet the learning outcomes I want to see.  I believe that everyone must have multi-literacies, including myself, if we are to utilize different electronic devices and view various types of multimedia and text.
Lisa