What motivated you to explore the appliction(s) you used?
I just decided to quickly play around with Dumpr  because I had never heard of it before and a few people had used it already.
What have you attempted to achieve in your project?
It actually gave me a great solution to a problem I have been trying to figure out lately. My problem is this: I wanted to give all my coworkers a little Christmas card attached to a mini candy cane (I was really excited that the import store sold Candy Canes as last year I couldn't find them ANYWHERE). I have been trying to figure out how to make the cards, but Dumpr has a Christmas Ornament option so I put in a photo of me from my recent trip to Machu Picchu and voila! However, I felt it wasn't quite Christmasy enough, so I added a santa hat to the photo using Photoshop and then put it in Dumpr for the final result. I am not great a Photoshop so I didn't take out the hat I was wearing or fix my hair or anything, but I think it adds a bit of humour to the photo, so I quite like it.
What are the particular affordances (for knowledge mobilization, learning, etc) of the form of production you've selected in relation to previous forms of production we've considered in this course?
I this form of production is good for assessment for learning because it is such a quick system to use that student wont get caught up in the actual production of the product and can focus on the content within it. That being said, it is a good site for inspiration because it has some really creative projects you can work on and can use as a jumping off point.
What are the potential drawbacks?
Potential drawbacks is the limited control over the final product and the need to pay for the image. For example, I would have had to pay for my image, so instead I took a screenshot of it, but then it is a very low resolution image I have.Secondly, because of the limited functionality I had to use Photoshop to add in the santa hat. I have more creative control in Photoshop over the final product and how it is presented. In the end, I used the Dumpr image as inspiration and created a similar image in Photoshop. However, without Dumpr I never would have had the idea or motivation to create this in Photoshop.
Here is my Dumpr Christmas Ornament: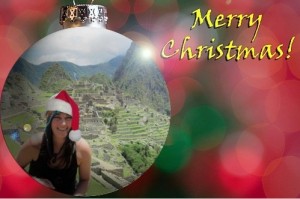 Here is my Photoshop Christmas Ornament:
As you can see, the two results look fairly similar in a web setting, but the Photoshop image I can print a high resolution to make a Christmas card.