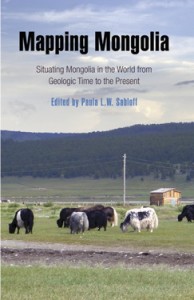 Just adding a review of the book "MAPPING MONGOLIA: Situating Mongolia in the World from Geologic Time to the Present" edited by Paula L.W. Sabloff. It was published in Pacific Affairs, 85(3), September 2012, pp. 656-658(3)
This welcome new book examines the place of Mongolia in the world. The book is a collection of papers originally prepared for the four-day international research symposium on "Mapping Mongolia," held at the University of Pennsylvania in 2007. The strength of the book is that it is the result of the collaborative efforts of 15 authors from diverse areas of expertise (ecology,
genetics, archeology, history, anthropology and international security). The impetus for writing this book is a widely shared concern among scholars that small countries are marginalized by a configuration of area studies programs and groupings in the Western academia and diplomacy.
Full version of the review PDF