By Batdorj BULGAN
On Monday, March 28, 2016 in Vancouver, Canada: UBC Mongolian Students and Alumni Club organized "The Future of Mongolia through Our Eyes"[Ирээдүй бидний нүдээр] workshop among Mongolian students in Vancouver. At the beginning of the workshop, the UBC MSA club announced its launch of operation and presented their vision to unite the Mongolian students and alumni in Canada.
The introduction of the event was followed by a presentation by Mongolian professors from the Mongolian University of Science and Technology. Dr. A. Enkhbat, Dr. D. Myagmarsuren and Dr. Ya. Tuguldur are here to learn and develop the mining curricula for non-miners in Mongolia through the IMAGinE project from CIRDI.
Following the presentations, the students identified "the Good and the Bad" of the current condition of Mongolia and developed 4 alternative scenarios envisioning the future. The students felt that "freedom" has been achieved and the country is blessed with rich natural resources. The under development of the country in the eyes of the students were seen as a vast opportunity to create, to innovate and to grow. On the other hand, the political instability, environmental pollution and deterioration of soft and hard infrastructures were sources of distress. Among all, the students were grieved by the lack of morality that has clouded the current society of Mongolia.
The education system, economic opportunities (domestic businesses) and public investments were identified as the driving factors for the future deprivation or development of Mongolia. The notions of media literacy, critical (rational) thinking, morality, education founded on custom and science, and participation of individuals were highlighted as root causes which could play significant roles in shaping the future; these were listed under "personal enlightenment" [хувь хүний төлөвшил]. Each scenario created was based in the year 2030 in Mongolia of which the condition of the country was based on economic opportunities/entrepreneurship and personal enlightenment. For the scenario development exercise the students chose the economic opportunities/entrepreneurship as the vertical axis and personal enlightenment as the horizontal axis.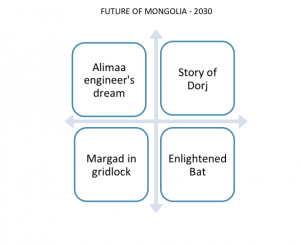 The scenario exercise helped students connect and share their concerns in the context of Mongolia and their participation in the making of the future. The UBC MSA club reiterated their invitation to the students to collaborate and actively participate in upcoming events and activities.
Acknowledgement
The event organizers would like to thank the CIRDI, GIZ,  H.E. Ambassador of Mongolia to Canada Ed Jager, Mr. Roger Chilton, Dr. Marie-Luise Ermisch, Mr. Damdinnyam Gongor and Mr. Mendee Jargalsaikhan for their generous support.
About Bulgan
Ms. Batdorj BULGAN, MASc Student, Norman B. Keevil Institute of Mining Engineering, UBC and a researcher of the Integrated Management and Governance in Extractives (IMAGinE) Mongolia project.