By Marissa Smith
In recent years, Mongolia has regularly sent a delegation to the World Economic Forum at Davos. This year was somewhat less eventful than some years, when President Elbegdorj himself attended and presided over a "Mongolia Night" and negotiations with the IMF were underway. However, major international events like these are a good time to check in and see if there have been any major changes in direction. None are really evident, and the ideas expressed by the attendees reflect familiar ideas with no new (or apparently revised or further developed) strategies indicated.
D. Sumiyabazar (Minister of Mining and Heavy Industry, professional wrestler and brother of Asashoryu) gave a six and a half minute long "interview" (it was more of a series of statements, as the interviewer only asked one question referring back to the scope of the interview, "what is interesting here at Davos… what directions are there") with Bloomberg (Mongolia ?). In addition to vague references to "business culture" and "management," he outlined a series of now familiar ideas about development through mining, specifically the construction of a metallurgical processing plant (gesturing to the "clean environmental surroundings" of Davos, he assured viewers that there must be ways to do this in an environmentally friendly way) and putting government mining companies (including Erdenes as well as Erdenet and Oyu Tolgoi shares) on the Hong Kong stock exchange for profits to reinvest domestically. Also hearkening back to 2011, Dubai and Kazakhstan were specified as worthy models, Kazakhstan particularly due to "nomadism." (Now, however, Nazarbaev was named as driving force.) Perhaps to temper too much association with countries viewed by many as undemocratic, Norway was then mentioned as a model.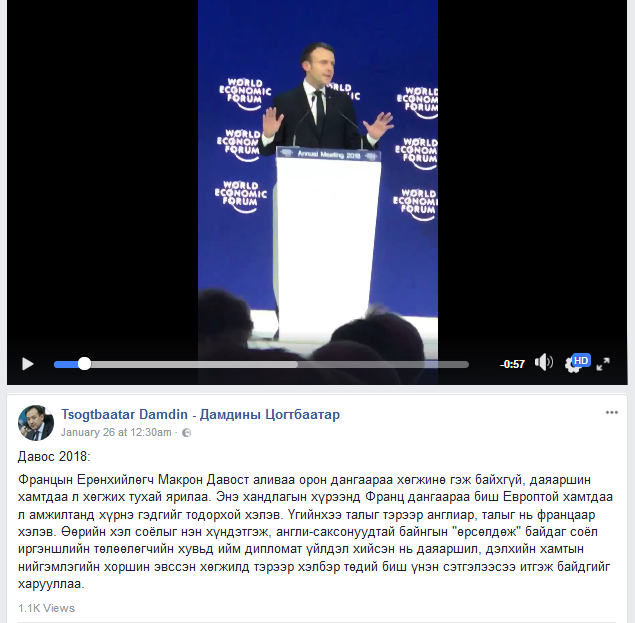 D. Tsogtbaatar (Minister of Foreign Affairs) attended a meeting on the One Belt One Road initiative organized by the UNCTAD (UN Commission on Trade and Development) that was also attended by the Foreign Ministers of South Korea and Qatar. Tsogtbaatar also shared a clip on facebook (tweeted by Sumiyabazar) of Emmanuel Macron's speech, praising Macron's comments about France as part of Europe and his speaking in English as well as French as demonstrative of commitment to multilateral development.
To summarize, while Sumiyabazar outlined familiar vague ideas about generating income from state-owned mining companies being listed on the Hong Kong stock exchange (a strategy that has been attempted and failed, and very likely is not in sync with initiatives of international financial and development institutions like the IMF), Tsogtbaatar reiterated commitments to international cooperation, but specifically the One Belt One Road initiative, which is in as much doubt now as ever as a viable plan for financing and constructing the kinds of large infrastructure projects that Mongolians want and need.
Addendum, 2/2/2018
As I have seen through a tweet by Allyson Seaborn D. Tsogtbaatar was also interviewed by Bloomberg Mongolia. It was posted on the Bloomberg Mongolia site on January 31. He speaks about international collaboration with India and China specifically, using language similar to the facebook comments on the Macron clip about cooperative (даяаршин хамтаа) versus dominating, monopolized (дангаараа) globalization and also of small/large states (after the interview used this framework in a question). Modi did attend and give a speech this year at Davos, which Tsogtbaatar comments in the first half of the interview. The second half has to do with One Belt One Road and how large and small states should "align" (жагсах); the issue of financing is highlighted.
This interview does suggest to me that D. Tsogtbaatar is passionate about and very engaged with issues of One Belt One Road and I will be following his moves in this direction.
Tsogtbaatar was interviewed by the same journalist as Sumiyabazar, but he asks more questions here — it's a shame that the same isn't seen in that interview.