By Mendee Jargalsaikhan & Byambajav Dalaibuyan 
The Mongolian Institute for Innovative Policies conducted a human rights assessment in areas affected by Tavan Tolgoi coal mining and transportation operations in Tsogt-Tsetsii, Bayan-Ovoo, and Khanbogd soums of Umnugobi province in March – July 2018.  The study was mandated by the National Human Rights Commission of Mongolia and funded by the United Nations Development Programme. However, violations of human rights issues have been raised by multiple stakeholders, ranging from local herders, local government, and affected drivers – to all possible levels of the government as early as 2010.  But, our study finds the situation has not been changed and it might even worsen if the government opens another route (i.e., Khangi Port) to Chinese border.
The sudden growth of the fleet of drivers with mostly Chinese-owned heavy coal trucks now caused more rights problem not only for the local community in Tsogt-Tsetsii and Khanbogd soums, but also for themselves and government officials working along the 270 km coal transportation route. Besides the failed railroad construction project, which could have reduced the need for coal transport by truck, and strong desire of mining companies to export as much as coal to China, has exacerbated irresponsible mining operations in Tavan Tolgoi. Instead of enforcing all fine laws of labour, health, environmental protection, and transportation, and relevant regulations and standards, the government has not provided sufficient resources for enforcing the rule of law. Even though parliament and government decided to take several measures – to build rest areas for drivers and to require mining companies to establish contracts with the transportation companies following visits of senior government officials – all decisions remain on paper only.
Upholding our academic neutrality to any biases, researchers found that operations of Energy Resources LLC have shown more concern for sustainable and responsible mining than the state-owned Erdenes Tavan Tolgoi and local Tavan Tolgoi companies. Energy Resources is the only business entity which follows all labour and health related legislations, regulations, and standards in regards with coal transport (e.g., insurance for drivers and vehicle, camps, and technical/safety inspections). In contrast, the other two companies have been extremely reluctant to follow standards. Since the state and state-owned entity have not been obeying the very laws of the state, this results in irresponsible, powerless state image in Tavan Tolgoi and 7000-8000 disenfranchised drivers – conducting coal transportation in most hazardous, unhealthy, and uncontrolled terrain.
Here, we would like to share a few survey results from drivers. Based on random sampling, 150 truck drivers participated in the survey, including 4 women.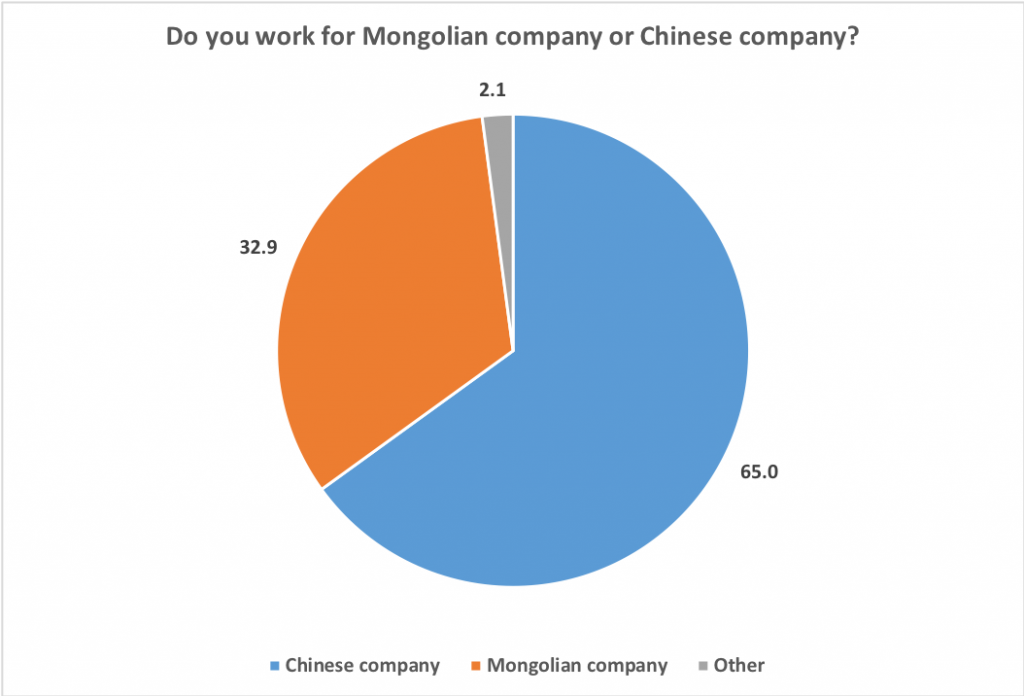 What are the most challenging issues related to your work?
In your opinion, how often does any of the followings occur among drivers? (Please rate each of the following objects on a rating scale of 1-5)