Change in Democratic Mongolia – Social Relations, Health, Mobile Pastoralism, and Mining
Edited by Julian Dierkes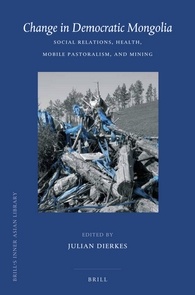 Some 100 years ago, Mongolia gained independence from Qing China, and more than 20 years ago it removed itself from the collapsing Soviet Bloc. Since then, the country has been undergoing momentous social, economic and political changes. The contributions in Change in Democratic Mongolia: Social Relations, Health, Mobile Pastoralism, and Mining represent analyses from around the world across the social sciences and form a substantial part of the state of the art of research on contemporary Mongolia. Chapters examine Buddhist revival and the role of social networks, perceptions of risk, the general state of health of the population and the impact that mining activities will have on this. The changes of patterns of nomadism are equally central to an understanding of contemporary Mongolia as the economic focus on natural resources.
Table of Contents
Introduction: Research on Contemporary Mongolia – Julian Dierkes
PART I Social Relations
1. Finding the Buddha Hidden Below the Sand: Youth, Identity and Narrative in the Revival of Mongolian Buddhism – Matthew King
2. Formal and Informal Networks in Post-socialist Mongolia:Access, Uses and Inequalities – Byambajav Dalaibuyan
3. Democracy and Risk: Mongolians' Perspectives – Paula Sabloff
4. Local Leaders between Obligation and Corruption: State Workplaces, the Discourse of 'Moral Decay', and 'Eating Money' in the Mongolian Province – Astrid E. Zimmermann
PART II Challenges to the Mongolian Health System
5. Did the Social and Economic Transition Cause a Health Crisis in Mongolia? Evidence from Age- and Sex-specific Mortality Trends (1965-2009) – Mungunsarnai Ganbold & Thomas Spoorenberg
6. Occupational Safety and the Health of Miners as Challenge to Policy-making in Mongolia? – Oyuntogos Lkhasuren
PART III The State of Mobile Pastoralism
7. Changes in Pastoral Land Use and Their Effects on Rangeland Vegetation Indices – Temuulen Tsagaan Sankey, Joel Sankey, Keith Weber, and Cliff Montagne
8. Collaborative Pasture Management, a Solution for Grassland Degradation in Mongolia? – Raffael Himmelsbach
9. The Twilight of Pastoralism? Livelihood, Mobility, Differentiation, and Environmental Engagement on the Inner Asian Steppe – Troy Sternberg
PART IV The Social Context of Mining
10. Mining, Resistance and Pastoral Livelihoods in Contemporary Mongolia – Caroline Upton
11. The Cultural Logics of Illegality: Living Outside the Law in the Mongolian Gold Mines – Mette High
12. Mongolia's Mining Controversies and the Politics of Place – Sarah Combellick–Bidney
Conclusions: Mongolia in the First Twenty Years of the 21st Century – Julian Dierkes and Byambajav Dalaibuyan
To order, please visit the Brill website or turn to your usual online or brick-and-mortar book retailer.